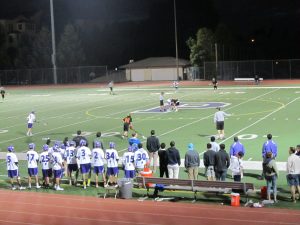 Varsity men's lacrosse breezed passed league opponent Berkeley High School on March 26, 17-4, to extend their win streak to six games.
The winning effort came on all fronts, as both defense and offense held their own against the Yellow Jackets.
Piedmont's offensive onslaught started early in the first quarter, as seniors Jack Moe and Ryan Ellis and sophomore Quinn Burnett scored goals within the first four minutes.
This set the tone for the rest of the half, as Piedmont would go on to score seven more goals to make it 10-3 at halftime.
From there, the energy never stopped, as Piedmont stormed into the second half with goals again from Moe and Burnett, along with a goal from junior Peter Lally.
Moe credited the explosive offense to the intensity and energy the team had going into the game.
"We were pumped up," Moe said.  "Berkeley is a league rival so knocking them out is really good."
Piedmont's consistent, lockdown defense contributed to the victory, as seniors Teddy Heafey, Justin Roach and Charlie Hanf, along with junior Adam Kurkjian, stifled any of Berkeley's offensive momentum.
Piedmont continued to score into the third and fourth quarters, with goals from senior Jack Moe, who had five on the night, junior Peter Lally (3), sophomore Quinn Burnett (2), and senior Mark Bublitz (2). Other goals came from senior Ryan Ellis (2), junior Chad Finkel (1), junior Jack Barney (1), junior Theo Williamson (1), and sophomore Chase Betta (1).
With nine players scoring, and a tight defense all night, head coach Jerem Strothers was impressed with the pounding and the team's depth.
"We've never beaten Berkeley like this," Strothers said, "I think this is one of the most complete teams we've ever had, and that's saying a lot."
Piedmont hopes to continue their success and win streak against another big rival, Miramonte, who they will play Friday, March 29 at 7:30 p.m.
"Miramonte is going to be a big game, so it's nice to get some momentum going into it," Moe said.
Strothers is extremely confident in his team, and believes the success can continue.
"The bottom line is the only people who can stop them is themselves," Strothers said. "They possess everything to win the championship."