The boy's varsity tennis team dominat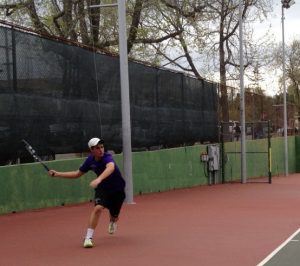 ed in their matches against Arroyo, winning 7-0. Three of Piedmont's top four singles players were unavailable to play. Just the day before they had lost to Miramonte, 1-8.
"We got smoked," said boys varsity tennis coach Neil Rothenberg. "We haven't been beaten that bad in a long time, but we beat them worse three years ago. We didn't lose a set and won all nine matches against them. It comes around."
Rothenberg said Miramonte is the best team in the WACC league. He said he is hoping Piedmont can get their doubles teams prepared for the upcoming match against Castro Valley.
Rothenberg said he was a bit nervous when he found out his singles players could not play against Arroyo.
"When three out of your top four are all of a sudden not available and you just took a beaten yesterday, it doesn't do well for the psyche," Rothenberg said. "Especially since these guys, the non-freshmen are so used to winning."
Rothenberg said it was nice that everyone was stepping up today, which is what the team needed.
"For example, [freshman Sam Cheng] is like the human backboard over there," Rothenberg said. "He just doesn't want to miss. If he can get his racket on it, there's a really good chance it's going to come back."
Cheng hit a forehand lob, but in the process lost his grip on his racket, throwing the racket as he hit the ball. He was still able to win the match when his opponent could not return the shot.
Another top performer was freshman Ricky Peters, who hit a ball with so much top spin that the opponent broke his racket's strings trying to return it.
Rothenberg said that Peters has had a great freshman year so far playing varsity tennis.
"Ricky's got a lot of talent," Rothenberg said. "What's good about him is that he can fill in anywhere, whether it's singles or doubles, with any partner."
Peters and his partner senior Andy Slabaugh won their doubles sets 6-0 and 6-1.
"My coach was complimenting me about a second serve I hit that kicked out pretty well," Peters said.
Peters said he wants to work on his backhand return because he could feel himself pushing it in rather than hitting it.