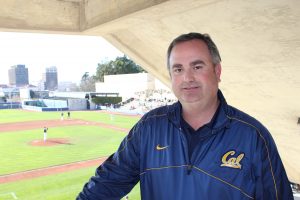 To the unfamiliar, the air raid scheme sounds like an advanced military attack-strategy, one outfitted with turrets, missiles, and supersonic fighter jets. To new UC Berkeley head football coach and Piedmont resident, Sonny Dykes, however, it is his own offensive recipe to jumpstart the entire UC Berkeley football program.
After an extensive job search implemented by Cal athletic director Sandy Barbour, on December 5, 2012 the UC athletic department announced that the former Louisiana Tech head coach and Arizona offensive coordinator would take the reins of the struggling football team, coming out of a 3-9 season.
One of the first goals Dykes made clear was to find a home close to the UC Berkeley campus and community, and after a couple months, Dykes and his family, with two children, found a place to settle in Piedmont.
"Number one, we wanted to find a house that was close to campus," Dykes said as he gazed across Cal's baseball field and other facets of the historical campus. "Number two, we wanted a town that had great schools as the Piedmont schools are some of the best in country, and number three, when we started just driving around looking at areas it seemed like a family-friendly area."
Prior to moving in on February 20, Dykes had to adjust to sleeping in his office while his family packed up the house back in Louisiana.
"I've got a little bit of a bad neck and back, so I'll be ready to sleep in a real bed here shortly," Dykes said.
Dykes plans to be as active as he can in the Piedmont and UC Berkeley communities, yet one thing will prevent him from being associated with Piedmont's closest connection to college football. The NCAA actually prohibits him from attending high school football games, hometown included.
"My wife will certainly be involved and our kids will go to the games. I'll be as involved as I can be per NCAA rules," Dykes said.
As for Dykes's own football team, he ultimately sees going to the Rose Bowl as a major goal. The Gold
en Bears have not appeared in a Rose Bowl game since 1959, and have not won one since 1938, when they shut out Alabama 13-0.
"What we have to do is focus on the process and not worry about the end results," Dykes said. "If we do the process the right way the end result will take care of itself."
His coaching style and experience may be just what the Bears need to revitalize their program, after the final years under former head coach Jeff Tedford failed to meet expectations of fans, boosters, and even top recruits. Dykes was named 2011 Western Athletic Conference Coach of the Year for his unprecedented boost in offensive efficiency and effectiveness, attributed to his high-octane, frequently-pass offensive system. Although his leadership at Louisiana Tech certainly was a factor in the hiring process, Dykes's performance at Arizona may more closely translate to how he will coach at Cal.
"I have a little bit of familiarity with the conference," Dykes said. "A lot of coaches have come and gone and the style of play's a little bit different, but as I picked some of the coaching hires I had an idea of what we needed to do to be successful in this league."
Peering through his sunglasses at the field below, Dykes said he plans to make the whole team better, not just the offense.
"The biggest thing we've got to do is become better in all three phases: offense, defense and special teams," Dykes said. "Guys are going to be playing new positions and will be asked to do different things."
Currently finishing up a four-week long spring football session, Dykes and his coaching staff, also present at the baseball game below, will inevitably have to make a decision as to which quarterback starts. As of now there are seven options on the roster to choose from, including senior Alan Bridgford, redshirt freshman Zach Kline from San Ramon Valley High School, and true freshman Jared Goff of Marin Catholic.
"Hopefully as we come out of spring football, there will be a clear cut number-one quarterback," Dykes said.
Dykes and his team will also be able to utilize the newly renovated Memorial Stadium and its adjacent facilities, which were officially completed just prior to the 2012 season. After more than 30 years of careful planning and $321 million in costs, the classic stadium is ripe and ready for the Golden Bears.
"To me they did an incredible job of meshing a traditional stadium with all the modern conveniences and I think they did a great job. It's the most beautiful stadium in all of college football," Dykes said. "It makes you play a little bit harder and care a little bit more when people have invested as much as they've invested in our facilities."
Looking up towards UC Berkeley's trademark Campanile tower, he said that it is great to be a part of the rich tradition that is associated with the school. Dykes, the son of legendary college football coach Spike Dykes of Texas Tech, commended the university, its students and its faculty on their role in the community and how they are making history every day.
"There are so many great people doing great things here at Cal and I'm sure there is going to be more history made around campus in the future. Hopefully I'll be a part of it," said the Lubbock, Texas native.
Learning much of his coaching philosophy from his father, Dykes' coaching philosophy is to keep it simple.
"In some ways when you're good fundamentally that's what sets you apart from everybody else," Dykes said.
Perhaps improving on all players' fundamentals is what the Bears need to compete with reining PAC 12 champions, the Stanford Cardinal, who are considered by Dykes to be Cal's biggest competitor this year.
"Our program is always compared and measured to Stanford's," Dykes said. "They've obviously done a great job with their program, so we got to lot of work to do before we catch up, but we think we can get it done."
Before the start of the season Dykes wants to do various activities in the Bay Area, unrelated to football. In addition to Bay Area classics like wine country and Alcatraz, Dykes and his family want to explore Tilden Park and get down to Santa Cruz.
"[I'd like] to check out the breaks they got out there in Santa Cruz," Dykes said. "I don't know if I call it surfing, but I stand up on a board, let's put it that way. Hopefully I don't get eaten by a shark."
He also loves the food East Bay eateries have to offer, after dining at places like Zachary's Pizza, Crepevine, and Rockridge's Market Hall. In Piedmont, though, Dykes has his own take on a personalized Mulberry's sandwich.
"I'd start with a lot of bacon, a little turkey, about three slices of cheese, probably a slice of cheddar, slice of Swiss, slice of American cheese, a little mustard, lettuce, and top it off with some good potato chips," Dykes said. "That'd be the Sonny sandwich, you know real healthy, but definitely a meal."
Sonny Dykes: nationally acclaimed college football coach, family man, active community member, and experienced sandwich chef.