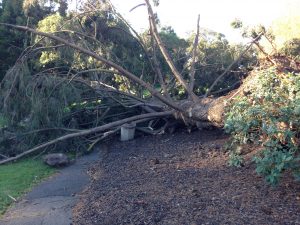 With wind speeds reaching a high of 20 mph and wind gusts reaching a high of 37 mph, a massive tree collapsed in the center of Piedmont Park last night.
Piedmont resident Barbara Love said she was walking her dog around 10:30 p.m. and thought she was going to be hit by something.
"I was also thinking a lot about what's happening in the Philippines and I know I shouldn't be complaining because only one tree fell down," Love said. "But it was unusual and a little scary."
Due to the strong winds, there were power outages in some areas of Piedmont.
Junior Connor Guiney said his electricity did not go out but a lot of his friends' did.
"Even though my door was locked and closed, it was making banging sounds," Guiney said. "It was kind of weird."
Piedmont is currently working to clean up debris around the city caused by the powerful winds. Winds are expected to die down this evening, averaging 10 – 15 mph.