As the sun set over Witter Field, the field lights buzzed on as the players on the varsity men's lacrosse teams from PHS and Berkeley High School geared up and prepared to face off. The timer started and the whistle blew, and as the numbers counted down, the scoreboard showed the the upward trend of points on the "Home" side.
The varsity men's lacrosse team won their home game against Berkeley 14-4 on March 25.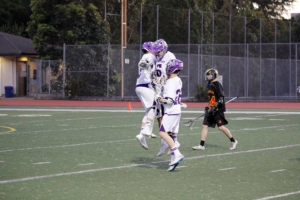 After the first face off, sophomore Jason Finkel scored two minutes into the first quarter, making the first shot of the game.
"We came out really strong and kept the offense going," sophomore Walker Payne said.
Piedmont won the first three face offs and stayed ahead for the whole game. By the second quarter, the score was 5-0, and the bleachers were filled with cheering family members and friends.
"We came out with fire in our eyes and it was a huge part of helping us win," senior Drew Collins said.
During halftime, Piedmont huddled together, firing each other up and jumping excitedly. The score was 9-2, but the game was not over yet.
"Today [our team] really controlled the pace of the game," said Piedmont varsity men's lacrosse coach Jerem Stothers.
Not only did Piedmont run the offense really well, allowing them to score, but Piedmont's defense also played really well, limiting Berkeley's offense Stothers said.
"Most important was the possession and ball control," Stothers said.
Stothers mentioned a few of the night's big players, including junior Brandon Lew and junior Lorenzo Rael who contributed to the good possessions and ball control.
Lew drew two flags and scored a behind the back goal, which got the team going, Collins said.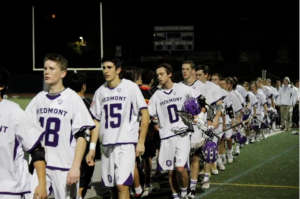 "There is always a lot more to work on, especially when we are dealing with such a young team," Collins said.
Stothers agreed and said that they still need to work on eliminating small mistakes for future games.
Collins said that the Highlanders focused more on what their team had to bring to the table rather than Berkeley.
"We still knew exactly what Berkeley was bringing to the table, we just didn't focus on it. We play Berkeley twice every year and they are a big rival of ours so it was nice to secure a win," Collins said.