Displays of books are complemented by displays of art as students come to observe the many pieces that offer windows into the talent of the art students.
Last week, AP art students showcased their pieces in the library where faculty and other students admired the different works.
"It's a cool opportunity for students to see what you have been working on and what other people in the art program have been doing," sophomore Elka Sorensen said.
Students from the Art I, II and III classes were allowed two pieces each in the all-school art show, which will begin on April 26, whereas AP students got to display more pieces from a larger gallery of their work.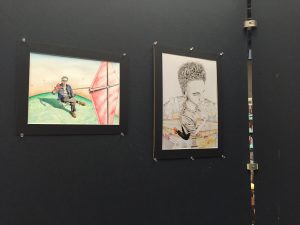 "People spend a lot of time working on their projects," Sorensen said. "They only make a few projects all year, so it's cool finally getting to display these pieces."
Sorensen, who is an Art II student, said she will be excited to show some of the art she created, including an image created with multiple sheets of detail compressed into a so-called "layer book."
"In other classes parents can see a grade, but in art, the products are the pieces their kids create, which are often surprisingly good," sophomore Walker Payne said.
Payne, who plans on putting an ink print piece in the art show, said he does not like to flaunt his art work but is still excited to present art in the show this year.
"Even if it is just a bunch of high schoolers, it's cool to see what people create, and a lot of the work is really amazing," Payne said.
AP Art student senior Gabe Crown said the art show allows him to display more of his style and personal voice.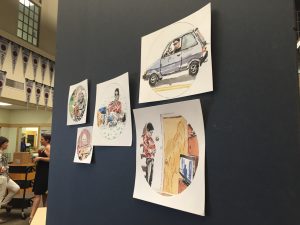 "I feel like a lot of people don't know that people in the art class are good at art, which sounds silly, but I think it's good to show people what we are capable of," senior Katie Yu said.
AP art students like Yu showed their concentration at the AP show. Concentrations, which are explorations of a certain artistic concept, are made up of multiple pieces of art and are what AP students have been working on all year.
"I think the student artists will be impressed when they come in and see their work actually presented and not just in their desk or stuck in their portfolio," Art teacher Gillian Bailey said.
"I believe people and students will be blown away to see their peers in a different light," Bailey said. "They might know them as a friend or an athlete, but might not have seen their art work."