Not eating, taking laxatives, throwing up after every single meal but constantly telling yourself that it will be the last time… until you do it again. Over and over again, cycling endlessly like an addiction, an eating disorder is a disease.  95 percent of people who suffer from it are between the ages of 12 and 25 years old, and altogether 20 million women and 10 million men in the United States alone have them.
The origins of body negativity
Junior Zoe Ray said she developed an eating disorder in middle school but first became aware of her body at camp in first grade, when one of her peers called her fat. Afterwards, she began thinking about how others saw her more than how she saw herself.
"I've always been insecure about myself, and didn't really have a high standard for myself, especially regarding my body," Ray said.
The concern about body image begins at a young age: 81 percent of 10-year-olds in the US are afraid of being fat, according to the Journal of Adolescent Health.
"The societal norm is to be skinny and to have a nice curvy figure, a figure that really isn't attainable by most people because it's a photoshopped figure," said freshman Gavan Dagnese, who is researching self esteem and eating disorders for her I-Search. "People have their expectations set to that."
Eating disorders have been around since the time of ancient Greeks, but are more common now because of modern societal pressures to achieve a certain body type, said clinical psychologist and eating disorder therapist Sharon Stafanson.
"The fact that it's on a rise to such a degree is partly because we have a very narrow view of the 'ideal' body type," Stafanson said.
Ariel Trost,  a psychologist with a private practice in Oakland who treats eating and anxiety disorders, said that positive body awareness is appreciating the body for what it does, more than what it looks like. Statements of praise, such as "pretty" or "cute," are often said with good intentions. However, they can cause children to grow up believing that people only evaluate them based on their looks.
"If you become aware of your body in terms of what it does for you, that's more likely to lead you in a positive way," Trost said.
Only three percent of the population has what society considers to be the "model body type," Stafanson said. However, recently models of all different body types are on the rise. A 'plus size' model commented that she was considered to be a 'large model' while a regular model is never referred to as a 'skinny model,' Stafanson said.
It makes sense, then, that 78 percent of 17-year-old American girls are unhappy with their bodies, according to a study from the National Institute on Media and the Family.
"[In Piedmont,] people don't bully other people, from my knowledge, about their bodies or how they look, but people bully themselves a lot," Dagnese said.
At PHS, it's common to hear people complain about their bodies, senior Chloë Combes said. While some seek validation, others genuinely dislike the way they look, she said.
"From what I've heard, everyone [at PHS] likes to be skinny," Dagnese said. "I hear people, if they get a cookie at food service, they'll be like, 'Oh my gosh, I feel so fat after eating this.'"
In contrast, freshman David Morris said that people at PHS sometimes get made fun of for the way they look.
"[In comparison to other schools,] I think Piedmont's pretty similar, but I think there might be a little more pressure here than other places," Morris said.
Combes said that she sees the same types of bodies in the media over and over again, especially among females. In fact, female models weigh 23 percent less than the general population, according to a 2009 National Eating Disorders Association study.
"We're constantly bombarded with images of women's bodies that are in the 1 percent of all women's bodies," Combes said.
Like Morris, senior Maura Phillips said that PHS is similar to other schools. Phillips has discussed body image with students from other schools at a Body Positive workshop.
"High school is a really hard time for everyone," Phillips said. "It's not the best in terms of body image, but I think it's pretty similar to other schools."
Sophomore Reece Proctor said that there can be disputes between different sports about body image.
"For instance, on cross-country we're not super big people, versus the football team is bigger and thus significantly stronger," Proctor said. "Sometimes that gets thrown around just a little bit, specifically by the younger kids on the football team."
As a professional, Stafanson has noticed an increase in males with eating disorders and said that there are often pressures for men to obtain a fit, muscular body type.
"Part of this shift in the last twenty years, and why eating disorders are on the rise for boys also is that, twenty or thirty years ago, mass industry figured out they could capitalize on men too, with magazines like Men's Health," Trost said.
Junior Nick Loduca said that he sometimes feels pressure to lift heavier weights when working out with the soccer team. However, he said that he doesn't usually feel that way.
"I'm pretty fine with the way I am right now," Loduca said. "I think [body image is] there for everyone, but it doesn't play a huge part in my life."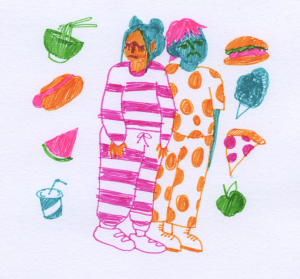 Spotting a healthy solution
Trost said that the communication parents have with their children about their bodies can be especially important. For example, if a child were to come home and say they hate their body, some parents might suggest the child begin to exercise or change their eating habits. This translates to their children that disliking their bodies is okay and changing their bodies would make them happier.
"I often say to parents, that if their kid came home and said they didn't like the color of their skin, you wouldn't offer to get skin lighteners," Trost said.
Nowadays,  Trost said that the unhealthy  obsession with eating "healthy" or "clean" has become more prominent. The media refers to this phenomenon as "orthorexia."
"In a place like Piedmont, [adults] are going gluten free, stop eating carbs or becoming paleo or cleansing, which ultimately trickles down to kids." Trost said.
Trost said that she detests using words like "clean" to describe food or eating habits because the implication is that other ways of eating are "dirty."
"When teenagers suddenly decide that they want to become vegetarians or vegan, we pretty strongly recommend against it," Trost said. "Unless that's something they've been doing since they were a small child, it's not a good age to start restricting certain types of food."
Furthermore,generally, drastically altering one's body size is unlikely without resorting to extremes, Stafanson said.
"We all have a natural set point range which is a place, give or take five or ten pounds, where our body naturally wants to be," Stafanson said. "It's when we start to try and change our natural state that we really get into trouble."
Piedmont is a high-pressure environment in general and appearances are not exempt from the community's expectations, Stafanson said. These pressures manifest differently in individuals with varying situations and levels of support.
"The thing that we are lucky about here in Piedmont is that we have the resources to get help," Stafanson said.
The Body Positive Club has hoped to start a dialogue at PHS. In fall 2014, social psychology teacher Anne Aldridge-Peacock and ten students, who are all currently PHS and MHS seniors, attended a two-day workshop hosted by a nonprofit group, The Body Positive. Since then, the club has held meetings at PHS.
"We've done some work but we're definitely not as disciplined as we could be," Phillips said. "There's definitely a lot to be desired."
Phillips said that one of her biggest takeaways from the Body Positive workshop was the idea that health is not determined by body size. Another important topic was intuitive eating, she said.
"Think about what you yourself want or need when you're hungry," Phillips said. "Do you want something red? Do you want something crunchy? Do you want something cold? Figure out what it is that you want versus habit or what you should or shouldn't have."
While Combes, who is not a member of the Body Positive Club, thinks that everyone should honor their own bodies, she said that she has noticed that the members of the Body Positive Club tend to be slimmer people.
"When you have people who have the body that you would want telling you to be positive about your own body, it's like, ugh," Combes said. "I would think, 'You have it so easy.' But they probably don't have it so easy. They probably have equally as many things that they dislike about themselves."
Dagnese said that ultimately, body positivity comes down to an individual's mentality.
"Schools can't directly change any of that," Dagnese said. "Even if they say, 'You shouldn't be talking about your weight because you're all beautiful,' we're teenagers. People probably aren't going to stop, especially because of the culture we live in."
Proctor agreed that effective efforts to shape body image will extend beyond the school.
"I think it's really just that society needs to change, and not so much that the school needs to change," Proctor said.
Society has changed, Phillips said. She has seen the growing body acceptance in the media affect the school climate. In addition to that, her body image has improved with age.
"As you get older, you experience growing self-acceptance and growing body positivity just naturally," Phillips said.
Phillips said that the most revolutionary concept that she learned and internalized about body image is the acknowledgement that bodies of any size are beautiful.
"There is absolutely no one thing that is beauty," Phillips said. "Not just variations, like it's every spectrum and every part of the spectrum is beautiful."
into the looking glass
Ray said that when she was in sixth grade, she started noticing how much she was eating. After she got a stomach bug, she began eating and throwing up.
"My parents started to realize that it was more than puberty," Ray said. "It got to the point where I was losing weight, but looking unhealthy."
Ray said that her bulimia got to the point where she couldn't eat without throwing up, but would constantly tell herself it was the last time.
"Even though rationally they might know it's not good for them, and all the negative outcomes — throat cancer, rotten teeth or hair loss — the feeling of relief overpowers them," Trost said.
Stafanson said that eating disorders easily persist if untreated. Depending on the severity of the eating disorder, options for recovery include therapy, support groups, residential and non-residential programs, and in severe cases, hospitalization.
After trying therapy in seventh grade, Ray was admitted and readmitted to the hospital repeatedly in eighth grade. Later in residential programs she tried, she would comply with their guidelines but then regress into the same pattern of bulimia.
"At some point you're coming back into your life, so it's important to figure out how to maintain that lifestyle," Trost said.
While Ray was going in and out of the hospital she would tell her friends that she was sick, but after she began to miss so much school, she started to open up to her friends about it. She was ultimately sent to a therapeutic boarding school in Utah for a year.
"At the beginning it was easy and simple," Ray said. "Then after three months, I realized how long I was going to be there and it became harder to keep going."
In that year, Ray said that although she struggled with resurfacing old habits, it was comforting having people around her who supported her during that time.
"I decided that I could be miserable the rest of my life with this, or I could choose to accept my body," Ray said. "I decided to take it day by day, because that seemed more manageable to me."
Ray found that when recovering, it helped to find hobbies and go back to normal life, whether it be taking a walk with friends or going out to coffee, focusing on being social and her character rather than her appearance.
Once she was able to stay at a stable weight and keep eating, she began focusing on herself, Ray said. However, this caused her to suffer from anxiety and she said it's still a struggle to try and not do anything to her body.
"I was so self conscious [about] my body that the idea of leaving it alone was unsettling,"  Ray said. "It's really hard for me to accept it and not want to change it, and with so much in the media, like diet pills or other weight loss advertisements, it's hard to think for yourself."
Ray said that after going through all the worksheets and programs, she learned that none of the advice or materials will work unless you want them to.
"I think it's easy to write positives about yourself, but it's harder to believe it," Ray said.
Although in Ray's circumstance going away for a year helped her on the road to recovery, Ray said she acknowledged that this can be unrealistic for many. One common alternative can be therapy like Trost's practice.
Usually, Trost starts treatment with medical stabilization and will gather up a team for the patient that includes a medical doctor. She then observes and analyzes behavior. Ultimately, she aims is to challenge the thoughts informing behavior and teach patients to rethink.
Trost said that it's especially important for parents of young children to first model feeling comfortable, appreciative and respectful of their bodies. Another important factor is to teach young kids media literacy so they can understand the images constantly being thrown at them, and understand what is real and fake.
Ray said she used to use her body as a factor on whether or not she was a good person, but she learned that it doesn't matter what body type or weight you are, people aren't going to look at you any less.
"Now when I go to the doctor, I don't even want to see what's on the scale, because I don't want to base my opinions on myself off that," Ray said.
In hindsight, Ray said she wished she had talked more about what was bothering her and opened up about her feelings with her friends and family. In the future, Ray said she hopes to go to college and likes the concept of helping others struggling with eating disorders.
"Now, I'm not one hundred percent confident with my body, but I'm okay with it," Ray said.