Squawks and skits will be heard at the 51st annual Bird Calling Contest as students come together to demonstrate their skills at comedy calls and bird related antics, on May 24 at 7 p.m.
The Bird Calling Contest, a long standing tradition in Piedmont, involves several groups of students who get on stage to perform a comical skit while at the same time replicating the call of a specific species of bird. Students, parents and members of the community come to the Allan Harvey theater to view these performances, where a winner is chosen and in previous years has gotten to go on the Late Show with David Letterman.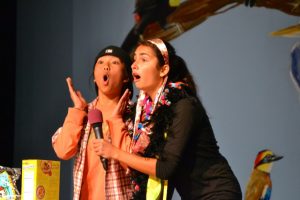 "The bird calling contest is a really interesting tradition, it started a long time ago and I think it's awesome that it picked up steam and now it's a really popular thing in Piedmont," junior Cade Becker said.
Becker, who is one of the masters of ceremony or 'MC' for this year's bird calling contest, says that though the tradition of going on the Late Show will end this year, there will be at least ninegroups participating in the contest.
"It's cool that people still want to be a part of the tradition even if there isn't this giant reward for winning it this year," Becker said.
Though there have been attempts to get media attention for the contest, there have been no promises that the winners of this year's contest will make an appearance on late night TV.
"Piedmont is not known for a lot of stuff, but the contest is a unique part of Piedmont history that is nationally recognized and it is this kind of obscure thing that Piedmont is tied to," said sophomore and participant in this year's Bird Calling Contest Ko Narter.
Narter was unable to participate in last year's contest but said she is excited to perform this year with her friends in front of the community.
"Doing the bird calls looks a little ridiculous and it could be embarrassing, but I understand that the people coming to watch the show are part of a community of support rather than one of criticism," Narter said.
Narter, whose group will be in the contest doing the call of the Northern Pintail, knows that the contest will be fun and that people are just coming to enjoy the show.   
"Over the years I think the emphasis has begun to be put on the different skits and less on the actual bird calls," senior Elie Docter said, "Which I think is cool because you get to see so much creativity from the students who are in the contest."
Docter, who is also an MC for this years show, said that there will be an Olympics theme added to this year's contest.
"I don't know how much the theme will actually be integrated into the show this year, besides on the posters and maybe in the title of the show, but I think it will still be cool to see," Docter said.
Docter also said that as the show continues to sell out faster and faster, a larger venue may need to be rented to hold the shows growing audiences. The Paramount theater is being considered as a possible future venue but that is purely speculative at this point in time.
"It will be fun to see where the show is headed in the future," Docter said, as excitement is already building up around the future of the show now that it has sold out for the fourth consecutive year.