A person can find someone who lives close to home, and still base their initial relationship on technology, by using dating apps such as Tinder.
Anyone 13 and up with a Facebook can use Tinder, although the app separates minors from adults. It works by matching people that both swipe right, which indicates interest in another person, based on profiles that emphasize pictures.
Similar apps include Bumble, in which women must message first and each match expires after 24 hours, and Grindr, which is similarly casual and proximity based, but only for gay men.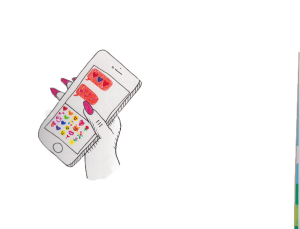 More than seven percent of Tinder's users are 13 to 17 years old, according to Teen Vogue, which means that high school students make up a significant portion of the more than one billion swipes per day.
Some of this seven percent includes MHS and PHS students, such as senior Jane, whose real name has been changed, who uses Tinder and Bumble. Although she has met a few people in person from the app, originally she used it with her friends in a superficial manner.
"My friends would come over and we would all have the app and we would go through and compare. It was kind of something that we weren't very serious about. We would probably never meet these people," Jane said.  "I was the first [and only so far] to burst away from that."
Of the two apps, Jane prefers Bumble and she ends up messaging about half of the people she swipes right on. Of the people she messages, she expands contact into texting and Snapchat about half of the time as well, Jane said.
However, Jane would not use it to start a long term relationship.
"My relationships haven't changed with my friends and I don't think that the way I see men or relationships have changed either, its almost like two different spheres," Jane said. "Because Tinder and Bumble are so different from real life interactions I don't think it replaces my real life interactions."