The lights shifted from the audience to the stage, illuminating the musicians clad in long black dresses and tuxedos as they sat with their instruments in their laps, ready to perform their opening song, "The Billboard March."
On June 1 at 7:30 p.m., the Piedmont High School Symphonic Band and Jazz Band 2016 Spring Concert began.
The Symphonic Band performed three songs, while the Jazz Band played four. Audience member junior Franny Baronian said her favorite song was the Symphonic Band's compilation of seven songs from "The Lion King" into one long song.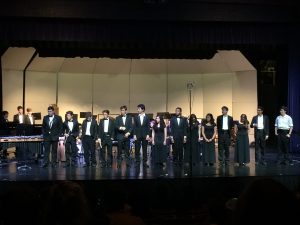 "I've liked 'The Lion King' ever since I was five years old, so I just like the music," Baronian said.
Jazz Band and Symphonic Band member freshman Laura Bryan said her favorite song was "The Jazz Police", which she performed on the baritone saxophone with the Jazz Band. In Symphonic band, she plays the alto saxophone.
"I did pretty well," clarinet player senior Sutter Kraetzer, who plays the clarinet in Symphonic Band. "I had a couple slip-ups, one in my solo, the second to last note. I just keep replaying it over and over in my head but overall I did pretty well."
Kraetzer said although the performance was not the band's best, they did pretty well and she would not do anything differently.
"We did the best that we could under the circumstances," Kraetzer said.
Before the last song of the concert, the seniors of both bands were called to the stage and the senior awards were presented. Kraetzer won the Symphonic Band Award, Christian Malaspina won the Jazz Band Award, Leland McCallister won the Music Director's Award and Andrew Newcomb won the Instrumental Music Award.
"[For] Jazz Band the songs are a bit more fun and upbeat, and [for] Symphonic Band, there's a slower vibe to it and an almost more sad vibe to the songs," Bryan said.
She said that because Jazz Band is a smaller group, everyone knows each other better.
"['The Jazz Police'] was kind of easy to play, but it still had a fun tempo or vibe to it," Bryan said.