A swarm of students clogged up the breezeway as they awaited their turn in a seemingly never-ending line. On Friday, May 27, students cast their vote for ASB and class president for the upcoming 2016-2017 school year.
Freshman, sophomores and juniors were all given the chance to vote on three different subjects, casting a vote for one candidate running for class president, two candidates running for ASB president, as well voting on whether or not to clarify the language of Article V Section 5 of the PHS ASB Constitution by adding the words "gender identity."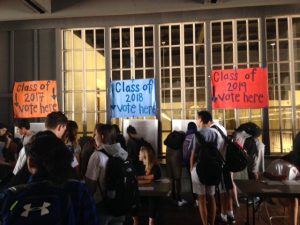 There are two votes for ASB president because there also needs to be an ASB vice president, which is the runner-up. This system was newly implemented this year. In previous years students were allowed one vote for a pair of candidates who ran together as ASB president and vice president.  
For freshmen, the experience is often unique as it is usually the first time they are able to select their own elected officials.  
"We did not get to [vote] too much in middle school," freshman Henry Cooper said.
Juniors on the other hand are voting for their class and ASB representatives for a third and final time in high school.
"I noticed a lot more enthusiasm towards the election than in years previous," junior Lane Manalo-LeClair said.
The most important and spirited time in the election process is the week of campaigning leading up to election day on Friday, as the whole school is decorated with colorful posters and slogans supporting the various candidates.
"I like being able to see all those posters because it is really interesting seeing how different people campaign differently," Cooper said.
Those running for class or ASB president see the week of campaigning differently as they are able to voice their ideas and display their artistic abilities to the whole school.
"Going out and saying this is what I can do, this is what I will do, it is really fun, and you feel like you are doing something good," said HannaMarie Hohener, who was elected sophomore class president.
All of the candidates did a great job of campaigning and the ASB class as well as the school will be in good hands with whoever is elected, Hohener said.