Harmonizing elegantly with the other members of the choir, Ensemble rehearses twice a week for two hours. The Ensemble choir is one of the ten performing and training choirs of the Piedmont East Bay Children's Choir.
The Piedmont East Bay Children's Choir includes many Piedmont students, but also pulls in a major fraction of singers from other schools around the East Bay.
Ecco, a performance choir, has a new conductor this year, Eric Tuan, who graduated from the choir program himself.
"[Eric] is kind of a friend of mine because he graduated from the choir nine years ago and he has been a counselor at camp," Ecco member junior Bryn Lawson said.
This summer, Ensemble is going on a summer tour to Spain. However, Ecco is not going on a summer tour because they only go on one every other year. Last summer the group went to Hawaii.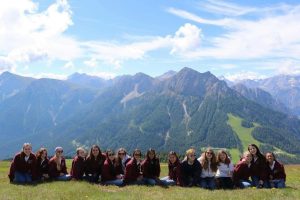 "Every summer we go to some place outside of the United States to either sing in festivals or competitions in different parts of the world," Ensemble member freshman Julie Huffaker said. "We usually go for around two weeks and it's really fun!"
Huffaker's favorite song, that will be performed in Spain, is their arrangement of "When I'm Gone,"  from the movie, "Pitch Perfect".
The choirs sing in many different languages including Spanish, Latin, Estonian and Russian.
"It's nice when we get to sing in English," Ecco member senior Maria Rogers said.
Rogers's favorite song from this year is "Daemon," a song written by monks.
"It's basically, 'the demon's coming to get you'," Rogers said. "It's super creepy and fun."
Ecco recently had a concert of Latin American Baroque music.
"We do a lot of different types of songs," Rogers said. "We've kind of done everything from random Guatemalan church music that no one has sung in 400 years, to a version of 'When I'm Gone.'"
Huffaker said the members of Ensemble are close and friendly.
"A lot of people have been in choir since they were really little kids so there are a lot of friendships, which can be bad sometimes during rehearsal because then people talk a lot," Rogers said. "It's a pretty friendly environment."