The PUSD School Board approved Victor Acuña as the new full-time Director of Athletics in July of 2016. He was initially chosen for an interim position in the spring of 2016, but his extensive experience with athletic leadership qualified him to assume the full-time position this year, Principal Brent Daniels said.
Acuña has been involved with athletic directing for about 14 years as well as other athletic positions such as scouting and coaching baseball. 
During the interview process in Jan. 2016, Acuña answered questions in a way that aligned with how a committee comprised of administrators, parents and former athletic directors viewed the athletic program's purpose. Therefore, Acuña was ranked highest out of the five candidates interviewed, Daniels said. 
"The first responsibility is to ensure the quality of the athletic experience that student athletes here at Piedmont are having and be a support system for them," Acuña said.
Secondly, Acuña will be involved with every sports team at PHS and provide feedback to the coaches. Acuña also will be in charge of the athletic schedules, managing the athletic complexes, not only for Piedmont athletic purposes, but for any outside user groups that are not affiliated with PUSD.
"I'm also in charge of reporting to the Director of Facilities in terms of the maintenance of those fields," Acuña said.
In addition, Acuña's job includes integrating himself into the community and communicating with the general public about successes of athletic teams or individual athletes, Acuña said.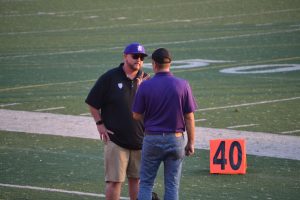 "I'm the advocate for our student athletes to their coaches, parents, teachers and with other administrators in terms of what is best for that player given a certain circumstance," Acuña said.
Specifically, Acuña manages athlete eligability, making sure forms are submitted and athletes are meeting grade requirements as well as helping students prepare for playing a sport in college.
Due to the scope of roles within the Director of Athletics position, it is now classified as a full-time management position.
In previous years, the role was only a part-time position which led to frequent turn-overs: the past four years have seen three different athletic directors including Acuña, Daniels said.
"In order to build a strong program, having stable leadership is critical," Daniels said. 
There was consensus among the Piedmont Teachers Association, School Site Council members, Booster Board and on PHS's department chair teachers that a full-time Director of Athletics position was necessary, Daniels said.
The base salary for the full-time position ranges from $74,068 to $103,048 and due to Acuña's past experience, his base salary is $94,408 for 205 work days plus health and statutory benefits.
"The Director of Athletics is much more than a full time job, so the Boosters Board felt it was important to give someone the opportunity to succeed in the position," Boosters president Beth Barrett said.   
The Athletic Boosters gave a one-year grant of $50,000 for part of the position and the Piedmont Education Foundation also contributed $10,000, so there is no cost impact on the district for this year, Daniels said.
"As the Boosters, we made the decision to give money to the position in hope that every athlete will feel the impact of having a full-time [Director of Athletics]," Barrett said.
With the change in the position came misunderstandings, especially concerning the salary. Since the position is no longer a teaching position, but an administrative one, the salary is in line with full-time athletic directors in other districts, Barrett said.
With the greater involvement of an athletic director, the goal for the Athletic Department this year is to ensure that all student athletes' needs are met and that academic and athletic programs are coordinated throughout the district, Daniels said.
Daniels said it is important to recognize that when students understand the purpose of athletics, the result will be a positive experience for the students.
"Winning can be an end goal, but sports also help develop character and integrity, which is the true win," Daniels said.
This coming year, the Athletic Department will look to expand and potentially partner with the Recreation Department to offer athletic programs during the summer, Daniels said.
Although changes to the Athletic Department are being discussed, Acuña respects the history and traditions at PUSD.
"Every decision made or any change implemented is always based on what is best for our student athletes and their success on or off the field," Acuña said. "I want to make this the most competitive, but also the most educational athletic program in the Bay Area."