Some of the strongest friendships in high school are formed through sports, clubs and other extracurricular activities. This year, Ground Crew tapped into this resource to try and and help bond their freshmen and leaders.
Ground Crew is a program that pairs sophomore, junior and senior student leaders with freshmen to help them adjust to high school life. The Ground Crew leaders and freshmen were grouped by common interests in an effort to create a stronger bond between the two.
"We're there to provide information about where their classes are, where their lockers are, classes [and] teachers," said  Ground Crew leader, senior Max Manalo-LeClair.
Ground Crew has 33 student leaders, each with a group of 5 or 6 freshmen.
"We grouped the leaders into smaller groups by interests and we grouped the freshmen into small groups by leaders with similar interests," said Ground Crew Leadership advisor Amanda Carlson. "Former Ground Crew members thought this would be a good idea, and Student Senate suggested it as well."
The idea behind matching students by interests was that freshmen would see their leaders more often, especially outside of school, if they were purposely matched up.
"I really like how we did it by interest groups," Manalo-LeClair said. "I have two water polo players now and one person who will play baseball in the spring. Having those upperclassmen on the team ends up being super useful."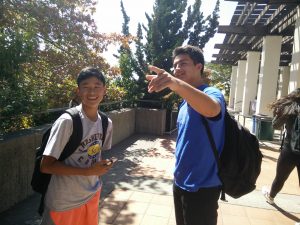 The groups were created based on a survey freshmen and leaders took over the summer that asked them about interests, classes and extracurriculars.
"It just so happened that sports came up as a big common interest," Carlson said. "But there were also lots of people who did theatre, arts, scouting and other interests."
Freshman Abe Barnes was placed in Manalo-LeClair's group due to a shared interest in baseball. Barnes plans on playing in the spring, he said, and Manalo-LeClair has played on the Piedmont team for three years.
"I asked him about baseball and he talked about what varsity is like and how the coaches are," Barnes said. "It was helpful."
Outside of sports, Manalo-LeClair and Barnes found another connection through a capella. Manalo-LeClair, a fourth-year singer and Chamber Choir, member had plenty to talk about with Barnes.
"I didn't know anything about a capella," Barnes said. "[Manalo-LeClair] gave me a lot of good information about a capella and what Mr. Piazza [the a capella teacher] expects."
Ground Crew leaders were able to offer advice at the mandatory meeting during walkthrough registration. During this meeting, leaders went over schedules with the freshmen and answered any questions they had. Since then it has been up to the leaders to set up and lead meetings with their freshmen groups.
"It's kinda left up to [the leaders], but I have asked them to connect once a week," Carlson said. "As time goes on, that once a week might go to once every two weeks."
Ground Crew also implemented the use of a new messaging service this year: Remind. Remind is a one-way messaging service that goes through email or text, Carlson said.
"We found that going through email is not as efficient," Carlson said. "Remind is used by teachers in other schools. We've asked the freshmen to voluntarily join a group with their leaders."
Despite the versatility Remind provides the sender, it creates complications with confirmation by the recipient, Manalo-LeClair said.
"I can't tell if they respond yes or no or if they're busy," Manalo-LeClair said. "I tried Friday, but only one person came."
Barnes thought Remind was a great service because it sends messages over the recipient's preferred service.
"Remind is useful because it sends you a text message," Barnes said. "Facebook some people don't check a lot, but texts you check every day."
The logic behind using Remind lies in its administrative properties, Carlson said.
"It allows [me] to monitor [the conversations] because we are a school organization," Carlson said.
Finally, Carlson thinks that Ground Crew is an effective and necessary aspect of freshmen orientation.
"Some people have always said we have YEDs, that's enough," Carlson said.
Manalo-LeClair, who did not have Ground Crew as a freshman because it was created his sophomore year, wishes he had their guidance his freshman year.
"When I was a freshman, we only did YEDs," Manalo-LeClair said. "[I wish] I had had someone to talk to."