Rape culture. Pollution. Sleep Deprivation. Water shortages. Stereotypes. From my peers, I learned a little more about each of these issues on the 2016 Day of Service.
For the past three years on a Friday in May, every PHS and MHS student came together with their classmates to make a difference in their community and learn in a different way than they do on an everyday basis. Students were able to pause from memorizing vocabulary or learning what the structure of glucose is and understand how they can impact the area in which they live.
Service learning is a way of learning that integrates meaningful community service with instruction and reflection to enrich the learning experience, teach civic responsibility and strengthen communities, according to Fayetteville State University.
To implement this kind of learning at PHS, a service learning club formed three years ago. Their mission was to develop a service learning curriculum involving every PHS and MHS student. This allowed students to broaden their horizons and learn through their own civic action.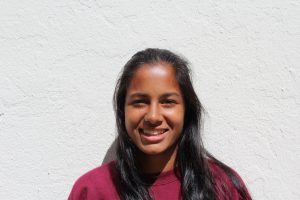 For the past three years, students have participated in service activities such as creating public service announcements (PSA), writing advocacy letters, making care packages for disadvantaged teens in Oakland and volunteering at local community organizations.
Last year, as a sophomore, I was able to pick a social issue I found pressing and raise awareness through a PSA that was then seen by the whole grade. My group decided to focus on the power of voice and why everyone should share their ideas. I had the opportunity to speak up about something I believed in and, through an advocacy letter, take action on what I had learned to create change.
I saw how even a single 15 year old student was able to inform and engender discussion among her community. I also found that the curriculum provides a place to share my voice and be a leader, as well as promoting teamwork towards a common goal.
In other cases, the teamwork in service learning results in direct impact on another individual. When the juniors assembled care packages for homeless teens last year, they were affecting the everyday lives of those living just a few miles away. This engaged students in their broader neighborhood as well as allowing them to gain a wider perspective on challenges community members their own age face everyday.
Service learning is especially important in Piedmont because of the town's secluded atmosphere. I often get caught up in the bubble of Piedmont and issues within my direct community, but it is important to expand beyond our neighborhood and understand how we are able to influence our surroundings in the Bay Area as well.
As well as expanding horizons, service learning promotes active citizenship, a skill that can be utilized for a lifetime. This causes students to grow as leaders and have a greater sense of their civic responsibility.
Another result of service learning is heightened academic success and improved critical thinking skills in students, as seen in a survey conducted by the American Association of Community Colleges. Participation also increases a student's ability to apply what they have learned to the real world, according to Sonoma State University.
Because our service learning program has only existed for three years, no grade has participated in service learning activities throughout their four years at PHS or MHS. As a result, it is difficult to see long term effects after such a short period of time and there may be more immediate and pressing areas the school wants to invest time and money into.
If we can embed service learning into our curriculum, every year students will build on their past experiences and by the time seniors graduate, they will have the lifelong skills of knowing how to influence a broader community and be an engaged citizen.