This year, teachers, students, counselors and administration battled, and in some cases continue to endure, larger and imbalanced class sizes, unscheduled periods in the middle of the day, and schedule changes.
The counseling office processed over 150 requests for student schedule changes in the opening two weeks of the school year. The large number of students requesting to switch classes led some courses to be discontinued during certain time slots and left some students with an unscheduled period during their fourth or fifth period. This issue also contributed to larger and imbalanced class sizes.
Counselor Amanda Carlson said that while the large amount of requested schedule changes is not uncommon at the beginning of the school year, it still took a lot of effort and creativity to keep coming up with solutions.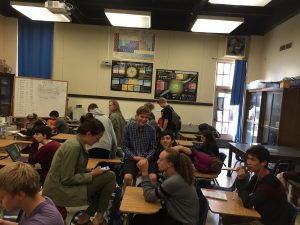 "When I get the email from a parent saying 'my child really needs to take Civics second period, c'mon Mr. Mapes make it happen', it keeps me up at night because I know I can't," assistant principal Eric Mapes said. "If the class is full and won't allow for any more students, then there is nothing I can do."
Unfortunately, counselor's attempts to reschedule are limited by large class sizes.  Honors Physics teacher Glen Melnik said his largest class has 33 students with only 31 seats in the classroom.
"Students have to sit either on the side of the room or way in the back by the tables, and I feel sorry for those students because they can't see the board as well as the rest of the class," Melnik said.
Similarly, the Physical Education classes at the end of the day are larger because the freshmen in P.E. are typically on JV teams that usually play first, therefore they were placed into sixth and seventh period P.E. so if they miss a class to play a sport, they would miss an atheltic class to do athletics, Mapes said.
History teacher Mark Cowherd struggled not only with large classes but also with the imbalance of class sizes.
"If you contrasted having a small class and a large class, and it's the same subject, it's almost like two different lesson plans," Cowherd said.
A very small class will have shorter discussions than a large class, while a larger class will struggle to give everyone a chance to speak and input new information in the conversation, Cowherd said.
Carlson said she estimates that up to 50 percent of the requested scheduling changes that came through the counseling office could not be made. She said that a common reason for this was that many students asked to switch their classes around when the courses they were taking were only offered during one period.
"When students are taking enough classes that are only offered one period, or the master schedule didn't load a class in the given time slot because whatever class was not being offered anymore, that's when students wound up with an unscheduled fourth or fifth period," Carlson said.    
Senior Josef Presberg was assigned an unscheduled fourth period at the beginning of the year because he has a lot of classes that are only offered once and there was no waymakehis schedule with the free period he wanted.
"[The administration] made me enroll as a [teacher's assistant] during fourth period because apparently you are not allowed to have a free fourth," Presberg said.
Presberg, who was at first confused when he saw the empty fourth period on his schedule, said he later became a little annoyed when he found out that the school would not let him have his free period and switched him into a teacher's assistant class.
"When I asked why I couldn't have a free fourth period, they said that the school was liable during the middle of the day and I would have to be a TA," Presberg said.
The school's official policy states that the school is liable from the moment students leave their home in the morning to the moment they return to their homes in the afternoon.
"To be honest, the reason we don't allow people to have free periods during the middle of the day is student safety," Mapes said. "You, the students, are our responsibility. To have students running around during the middle of the day means we don't know where you are, your parents don't know where you are."
Counseling worked to fix middle-of-the-day free periods, but it was not always possible. Administration and counseling also worked to even out the class sizes but the imbalance is still largely present.
The majority of students got the exact classes they asked for, Hartford said.
"[The issue is] just a money thing," Hartford said. "It's just how many sections can we allocate. You create another English section, that's money that the district doesn't have."
Thirty new students enrolled in the PUSD school district over the summer, who then had to be put into classes. The counselors are planning to calculate the number of new students in each grade and what classes they took from past years data in order to be able to anticipate class sizes better in the future, Mapes said.
"[Anticipating the number of new students is] not part of the student request system because they're not here yet," Mapes said.
Administration and counseling worked together to level out the size differences.
"[Administration is] not just solving it for this year, but they are looking at the big picture and how we can creatively limit our [class] sizes for later years,"  Melnik said.