"We were basically living off coffee, like zombies," senior Krysia Olszewska said. "But that's what a hackathon is."
Last summer, Olszewska entered a coding competition called Outside Hacks, which was sponsored by the Outside Lands music festival. The competition was centered around developing an app for the popular festival in just 24 hours.
"A hackathon is a coding competition and there are all types of hackathons happening all the time," Olszewska said.
This particular hackathon was sponsored by the Outside Lands music festival to help high school students develop apps. The competition was founded in 2013 and since then it has helped nine apps be developed, according to the Outside Hacks website.
"Our prompt was to address a problem, to enhance the experience of artists and fans at the upcoming festival," Olszewska said. "Based on this prompt, all the groups had 24 hours to work away in San Francisco and come up with their ideas, then we pitched it."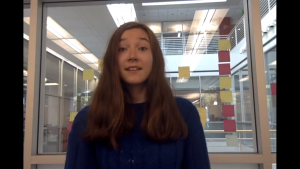 Once she had arrived at Outside Hacks, Olszewska said she teamed up with three other coders, two of whom were graduate students at Stanford, Ayushi Mathur and Shwethambari Surendran, and one who had a job as an app developer in Russia, Alexandre Protikhin. Each member of the team had a unique role in the creation of the physical app. Olszewska was in charge of overseeing it, she said
"It was definitely a new experience for me,"Olszewska said. "At the beginning it was a little bit strange because I came up with the idea and I had to tell them what to do, which seems like the reverse of what usually happens where it's the adults that tell the younger people what to do."
The app Olszewska and her team developed was one of the three finalists in the Outside Hacks competition, she said
"Our app (Outside Genius) is best described as Tinder for music," Olszewska said. "People got to listen to samples of music of all the artists that would be performing at Outside Lands, because I found that one of the big problems is that people are only aware of the headliners and they potentially miss artists that they would love just because they don't know about them."
The other two finalists also had their apps developed and sponsored by Outside Lands. The first app is called UniteLight, which sends patterned lights to your friends to find them more easily in a crowd. And the other one was called Dave Bots which was a chatbox where people could ask Ranger Dave questions about the festival, said Olszewska.
Outside Hacks was not Olszewska's first Hackathon. The first one was called Technovation, which she participated in two summers ago when she decided she wanted to gain a larger knowledge of the world of coding, she said.
"Everyone thinks that hackathons are only for people who are really good, but there are hackathons for beginners too," Olszewska said. "The best thing to do is to put yourself out there even if you think that you're unprepared but it really doesn't matter. You have to go out there cause that's how you learn."
Olszewska began coding in freshman year in the Joy of Computing class and in sophomore year continued on to AP Computer Science. Though she learned to code at PHS, Olszewska has also continued to further her coding experience off of the PHS campus through hackathons and summer programs. One of the most influential coding experiences was her time with the summer program Girls Who Code, she said.
"The Girls Who Code program that introduces young women into how computer science can impact the world around them," said Girls Who Code club Co-President, senior Shannon Yan.
Much like Olszewska, Yan is also very involved with computer science and the two of them have been working together to build a stronger coding community at PHS, beginning with the creation of the Girls Who Code club.
"I want people to know that technology is one of the best ways to create something and change the world," Olszewska said. "It may be a little bit dramatic, but it's true."