Banned books week spread awareness of outlawed books through activities in the library from Sept. 26-30.
"We showed movie and film trailers at lunch," librarian Kathryn Levenson said. "We had a different theme going each day, like 'coming of age' and 'war is hell.'"
Levenson said that in addition to movies, the library took mug shots of students holding banned books with a sign reading "caught reading challenged literature."
"Several of the books in our core curriculum have been challenged or banned, such as 'Catcher in the Rye,' 'Huckleberry Finn,' and 'Of Mice and Men,'" English teacher Debbi Hill said.
Piedmont was taking part in a national banned books week, celebrating the ability to read challenged literature, as noted on the American Library Association website.
"The fact that a book has been challenged somewhere is an interesting fact for students to know, because there is some controversy," Hill said.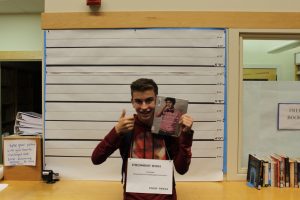 Each school has the ability to regulate their own banned books list, Levenson said.
"We're lucky to be in a district that doesn't restrict this freedom," said Hill, referencing Piedmont's bare list of banned books.
Although Piedmont's current list is empty, parents are welcome to submit requests to question required reading, Hill said.
"Parents have the right to give boundaries to their children, and the English department is cognizant and open to alternative assignments," Hill said.
The ability to question books is open to everyone, Levenson said.
"Some of the people that ban books don't have a professional background or haven't even read the book," Levenson said.
Levenson said a parent once read a measly four pages into a book before bringing its appropriateness to question.
"When there are people that think there's a book no one should read, that's a problem," Hill said.
Hill also said that many PHS English teachers have a required independent reading book assignment limited only to previously banned or challenged books.
"When you show people books that have been challenged it brings out emotion and outrage," Levenson said.
Sophomores are currently reading 'Catcher in the Rye,' by J.D. Salinger, which was the most censored book in US high schools and libraries from 1966 to 1975.
"Reading 'Catcher in the Rye' allows [students] to read an extremely important piece of literature in American history…that still resonates with so many teenagers," sophomore Kevin Judd said.
Some schools, however, are still deprived of the freedom to read such important novels.
"I am very pleased we're raising awareness that there are places where people are trying to control what we can and cannot read," Hill said.