Long-term substitute Sara Mellas assumed the role of band teacher and conductor two weeks ago, filling in during music teacher Andria Mullan's maternity leave. Mellas will remain at Piedmont until December, as Mullan will return following Winter Break.
Mullan's maternity leave began early with the premature birth of her daughter, Mellas said. As a result, Mellas started the year without her scheduled two weeks shadowing of Mullan.
Mellas has assumed Mullan's full time position of five classes, and is now conducting the three middle school and two high school bands. Mellas will also conduct the Winter Band Concert.
Mellas said  for about a week she relied on the students to help her acclimate to the class.
"[The Administration wanted someone] who had a background in music so that she could come in and at least be able to conduct the band classes when Ms. Mullan was gone," Music Assistant Jan D'Annunzio said.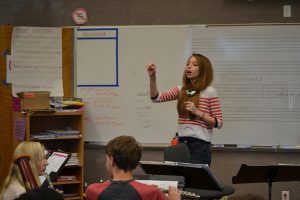 Mellas has a vocal background and a background in trumpet, D'Annunzio said.
"It's my personal opinion that it's been a seamless transition," D'Annunzio said. "She's doing a wonderful job."    
Junior Eva Hunter said the new perspective will be good for the band, and that Mellas conducts with a fresh viewpoint.
The student conductor, junior David Yu, said that Mellas expects a lot of the class.
"When she says, 'you've got to play now,' you have to be quiet and ready to go," Yu said. "She pushes you more than Ms. Mullan does. I think it's gonna make us sound better."
Mellas said that teachers should conform to the needs of their students, while preserving the core principles of the lessons.
"Homogenous classrooms do not exist any more," Mellas said of the need to recognize diversity.
Mellas said she hopes to set her students up for success throughout the year.
"I think there is quite a lot of talent, especially amongst the high school band," Mellas said.
The band class divides their time by using some days to play classical music in symphonic band, conducted by Mellas, and dedicating others to a student conducted pep band, Hunter said.
In symphonic band, with Mellas leading the class, they approach pieces in different ways.
"Sometimes we'll play through a whole piece, sometimes we'll sight read  a piece and sometimes she'll have us stop and work on a particular section with a specific instrument," Hunter said.
In pep band, Yu leads the class. Yu said that his role as student conductor has led him to appreciate his teachers more.
"It's different to be up there, and to be in Ms. Mullan's or Ms. Mellas' shoes," Yu said. "I understand how hard it is to keep everyone controlled, to get everyone to move along."
Hunter said pep band is more chaotic than symphonic band.
"If we're doing pep band, it's very loud, everyone's playing the piece, and we kind of come together when the conductor yells 'band, horns up!'" Hunter said.