The consent assembly, on Monday, Oct. 24, has four new parts to it this year. Along with three girls telling three stories, there will be a story from a perpetrator's point of view, a bystander's view, a gay boy's story, and a story about a healthy relationship. There will also be blurbs read aloud about consent that people around campus have written.
A Parents Night, where parents are able to view the same assembly as the students, will occur at 7:30 p.m., on Thursday, Oct. 20. Parents Night has been going on for about 10 years.
In past years, boys have said that they feel like the assembly has been targeting them, said senior Nina Adarkar, who is one of the actors in the assembly.
To address this issue, a larger variety of stories have been incorporated into the assembly this year, specifically a gay boy in an unhealthy relationship, who will be played by senior Daniel Weekes. The intent is to show that girls are not the only target when it comes to rape or bad relationships, Adarkar said.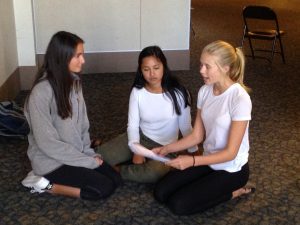 As in the past, the stories used are real stories from Piedmont High School students. The acting teacher, Kim Taylor, has written these stories into a script for the actors to portray. Having the stories come from Piedmont students and realizing that sexual assault can happen to anyone, even your best friend or your sibling, is another reason for the assembly, said junior Olivia Adams, who will also be portraying one of the girls.
"This is one of my peers, this is someone I've grown up with," said Weekes, regarding the boy he is playing and the story that he is telling."Even though I have no idea who it is, it is still someone who is one of us."
In past years, actors had noticed people being disrespectful during the assembly and heard some people call it the "rape festival," Adarkar said.
It is important to know that the actors are putting themselves into vulnerable positions and most are nervous for how their peers will react to the stories, Adams said.
"Be respectful and be mindful because they are real stories and it did actually happen," Adams said.
Adams said that even though there is a Parents Night, and the actors' parents will probably come, her parents do not really understand what she is doing.
Junior Maya Guzdar, who is also playing one of the three girls, said that her mom does not know if she wants to come and see her daughter in that type of performance.
"She definitely supports me, but I think she's a little freaked out because it's a really intense thing," said Guzdar.
None of the actors have ever been a part of the assembly before so that aspect will bring a "new interpretation" to it, as well, Adams said.
The real goal of the assembly is to provoke good conversations about consent and to create an environment where students feel comfortable enough to talk about rape and any other type of sexual assault. The hope is that the stories told will create a lasting impact and initiate more thought on the subject, Guzdar said.
"My goal is to just try to communicate this girl's story and honor what happened to her so it doesn't happen to anyone else," Guzdar said.