"This is an unbelievably proud moment of community spirit," said superintendent Randall Booker as he stood atop a podium and addressed an audience of sweating, smiling Piedmonters.
Sept. 24 marked the sixth annual Fall Fest 5K, a race that raises awareness and funding for the PUSD Wellness Center. With the help of these donations, the Wellness Center, now in its 10th year, continues to add to its list of programs, from Youth Educators (YEDs) to Free Lunch Fridays.
"I think being a student is stressful business," said senior Elijah Levy, who finished second in his age group at the 5K. "Having the Wellness Center there and having these programs that help kids transition to high school, I think that's a really good thing that we can't take for granted at Piedmont."
While the Wellness Center does benefit from Fall Fest 5K money, most of their recent growth has been allowed by an Alameda County Behavioral Health Services grant of $51,150. Wellness Center director Michael Brady, who is in his first year directing, applied for the grant in 2010.
"We have used it in support of direct services," Brady said.
Wellness Center programs fall into two categories: student leadership services and health education.  Student leadership services include Peer Ambassadors, Peer Mediators, Peer Advisors, and YEDs.  For health education, the Wellness Center provides student assemblies, speakers and films, Piedmont Parent Network (PPN) training and presentations, and parent forums, according to the school website.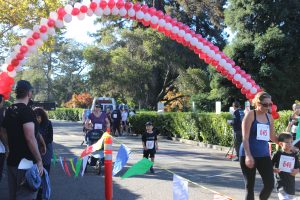 "From the very beginning, there has always been a leadership component and a counseling services part," Brady said.
Senior Alex Chang became interested in the YEDs program after three PHS juniors came into his eighth grade English class as YEDs.
"Our YEDs, for my class, made a pretty big impact on me," Chang said. "They kinda helped me out a lot freshman year and helped me get acclimated to high school."
When Chang himself became a junior, he said he wanted to sign up for YEDs to have the same impact on others.
"Because the Wellness Center sponsors all these programs about student-to-student interaction, I think it does contribute to a more tightly-knit community," he said.
In addition to the leadership training it gives students, the Wellness Center also provides free, confidential counseling services and a location on-campus where students can drop by to de-stress. Chang said that he has used the Wellness Center a few times when he is too stressed and wants to unwind.
"It's really helpful," he said. "It may not seem like going in there one time will do something for you overall, but I think a lot of people at this school are really driven and they don't really take breaks; they don't take the time to keep themselves healthy."
In recent years, the Wellness Center has also introduced programs like Free Lunch Fridays and Tea, Treats and Tests as part of their mission improve the emotional wellbeing of students.
"My feeling is that there should be opportunities to come to the Wellness Center that are broad," Brady said. "It's about students feeling like, here is a place that is a safe and comfortable place to be and there's no pressure, no questions and no ulterior motive."
The Wellness Center has begun staffing their on-campus location with nurses to encourage students' physical health along with their existing emotional health services.  Brady said issues that students come to the nurses with can range from questions about concussion protocol to wanting ice for a rolled ankle.
"We're going to expand those services too so it's more conducive to supporting physical issues as well," Brady said.
Another goal the Wellness Center has for the year is reexamining some of the work around the School Board's initiative with healthy relationships, Brady said. On Oct. 17, all students will attend the Healthy Relationships Assembly to further this initiative.
"The referrals to the Wellness Center after the Consent Assembly have always been there," Brady said. "Now what we're trying to do is take a look at the issues that come from events like the Consent Assembly."
Brady is also the director of Adult and Alternative Education. This means he has oversight for district events like the Education Speaker series and the Appreciating Diversity Film Series.
"Now that I'm at the Wellness Center, we can think about how to thematically introduce some of these concepts," Brady said. "And the Board has a goal of helping students establish healthy relationships."
As part of this goal, the Wellness Center is currently in the process of developing questions for students about attitudes about sex and sexuality to be used in the California Healthy Kids Survey.