Two seconds left. The player dribbles between his legs and steps back. He pump fakes, one second left, then launches a shot. The buzzer goes off and the crowd holds their breath. Clank. The ball hits the back rim and falls to the ground. The player collapses to his knees. Not because he lost the game, not because he let his team down, but because he knows he disappointed his coach and parents.
Student extracurriculars can be dominated by parents, coaches and other adults. This has a huge impact on student mentality and performance, whether it be good or bad.
Sports psychologist Dr. Michelle Cleere, who works with students and adults on the mental aspects of performance in sports, performing arts or even test taking, believes that parents are often over involved.
"Parents need to back off a little bit," Cleere said.
Cleere believes the relationship between student and adult in athletics can lead to negative pressure and stress.
"Many [adults] don't really have good communication with kids. 'Did you eat dinner?' 'Yes.' 'Did you do your homework?' 'Yes.' But there's not really more depth than that," Cleere said.
If this communication is not open or not present at all, the consequences will be negative, Cleere said.
"There's just not enough conversation," Cleere said. "Parents do what they think they should be doing, and they just don't know what kids need. Part of it is kids don't know and part of it is parents don't ask."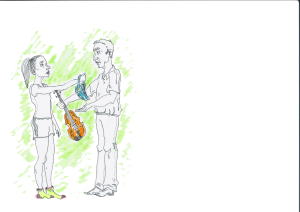 Varsity cross country runner junior Reece Proctor said he experiences this to some extent in his parents' involvement in his running.
"My parents do say stuff that puts unnecessary pressure [on me] that I don't really need," Proctor said. "My mom talks all the time about me going to the Olympics. It's a useless talking point because I'm not anywhere near that yet."
However, despite the negative impact, Proctor said he believes his parent's actions and comments come with supportive intentions.
"I think their intentions are very supportive, but I think she goes about it the wrong way sometimes," Proctor said.
Cleere agreed, and said that often this type of relationship can occur.
"Parents just don't realize that there are other ways," Cleere said. "They don't realize maybe this isn't what [their] kid needs."
Piedmont Swim Team head coach Stefan Bill sees this on a daily basis as the head of a competitive swim team.
"[Parents] drive their kids to practice, they pay the fees, they buy the equipment," Bill said. "But it's important for parents to realize that kids really enjoy when a parent says, 'I loved watching you swim.'"
Bill knows the negative impact of over involved parents, and makes a concerted effort to prevent it from happening.
"Swimmers swim, coaches coach, parents parent," Bill said. The coaching should be left up to me and the coaching staff, and parents should be in charge of the upbringing of their child."
In order to make these distinctions clear, Cleere said that she recommends that parents cater more to their child's needs by asking them questions rather than assuming what is correct for them and telling them what to do.
"When this doesn't happen, it becomes a great source of pressure and anxiety," Cleere said. "Especially in competition, stress and pressure are inherent. So now you have an added layer of that, and it's really not helpful."
Despite the issues parental influence can sometimes cause for Proctor, he believes it can be helpful and supportive.
However, both Proctor and Cleere agreed that coach influence is incredibly different than parental influence.
"It's not as much pressure. You're not trying to impress your coach," Proctor said.
Cleere, though, felt that not all people had the same unaffected relationship with coaches that Proctor has. People are often affected by what the coach says and does, Cleere said.
"You need to listen to what the coach has to say, but you can't always take all of that on and take all of it personally," Cleere said. "You still need to have your own expectations and goals of what needs to happen."
Proctor, who ran at Team Prep USA, a competitive summer running camp, as well as the Piedmont High School cross country team, said that there are two types of coaches.
"[The competitive coaches were] coming from less of a standpoint of trying to be nice to you, and [instead] someone coming from a standpoint of wanting you to achieve the potential that you want," Proctor said. "A lot of coaches at high school are having that fine balance [of being nice and being competitive]. But the coaches at [the camp] treated us as an elite group of athletes, so it was no nonsense."
The Piedmont Swim Team has a two pathway system that divides swimmers into more competitive and more recreational. However, the coaches encourage both groups in a similar way, Bill said.
"It is important to me and the other coaches that the swimmers are coming up to us and telling us their goals, writing them down on index cards," Bill said. "When they're not doing well or feeling well, we show them the index cards. These are ways to keep everything individual."
Besides helping athletes swim faster, Bill feels that coaches impact the swimmers as people.
"We are also trying to implement certain values that will help them in college and in the professional world, such as be on time, take responsibility for your action, good sportsmanship, respect and to a certain extent, be humble," Bill said.
Cleere said that another crucial skill to develop is independence, both in terms of being an individual and being self-reliant.
"High school is when you need to start figuring out how to be an individual," Cleere said. "That doesn't mean stop listening to [coaches and parents], but you also have more concious thought that you need to start listening to and paying attention to. There needs to become this melding of information coming from teachers, parents, coaches and the stuff that you're thinking."
Cleere also believes that it is important for students to become self-sufficient in terms of emotional support.
"The transition from high school to college is really hard in a lot of ways," Cleere said. "You change coaches, you change teams and your parents aren't around anymore. If you haven't had a chance to become independent, then that becomes difficult."
Proctor, who plans on running in college, agreed with Cleere's point.
"[In college] your parents aren't always there to support you. You don't have nearly as much communication with your family," Proctor said. "College coaching is more about performance than emotions, which will be hard at times but will let you have more self-reliance."