Paint spilling everywhere. Food scattered around the floor. Kids wrestling on the ground. Sounds like a scene of utter chaos, doesn't it? Not for AP Art seniors Kate Abel and Molly Szczech.
Abel and Szczech are working at an after-school art program with pre-kindergarten through first grade students at Havens Elementary, supporting and helping young students with their artwork.
"We sit down with the kids and do the art with them if they need help," Abel said. "There's some specific kids that really like having help."
Abel and Szczech switch off every other week, on Wednesdays, helping the after school enrichment art teacher, Karen Stanton.
"Basically what we do is help pass things out, get snacks ready and help kids with their artwork," Szczech said.
'Art Explosion,' the name of the class for future Picassos, is described as working with different artistic materials to explore creativity and learn the elements of art, according to the Havens Elementary website.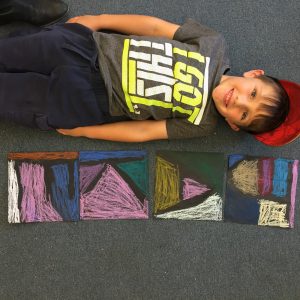 "The AP helpers are critical to my ability to teach the class since we are fully enrolled at 20 kids and getting the kids from their classrooms to the art room when they are four, five and six years old can be challenging," Stanton said.
Abel and Szczech said that they devote their free seventh periods to helping and guiding the young art students. They are enjoying the experience, and will continue to volunteer throughout the remainder of the school year, Abel and Szczech said.
"The fun part for me is that there are certain kids that are just so awesome. Some are such hard workers with art, they act like it's the most important thing in the world," Abel said.
The new concepts the children learn are similar to the ones that the AP art students use: contrast, balance, line, shape, form, symmetry and positive and negative space.
"My favorite part is definitely spending time with the kids, they are just so tiny, and have a lot of trouble with motor skills," Szczech said  "It's so fun to watch them spend a lot of time working on stuff. They always make great art."
Abel and Szczech are guiding the students through the art, not necessarily teaching them. Stanton usually explains the project of the day to the elementary school students. From there, Abel and Szczech help the students actually execute the task at hand.
Through it all, Abel and Szczech said that they see the difficulties with teaching young kids.
"There's some kids that just don't listen. You really have to tell them, four times, do this, sit here. And they really enjoy wrestling for some reason," Abel said.
Abel and Szczech mainly help the kids with clean-up and snack, but they also keep them focused and content.
"Some of the kids just actually don't want to do it, a lot of kids have trouble in the class, but it's more difficult when they just don't want to do anything," Szczech said.
Despite the ups and downs, Abel and Szczech are enjoying their experience with the children at Havens, and are excited to continue doing so for the remainder of the school year, Abel and Szczech said.
"If you have the chance to do something with little kids, do it, because they're awesome. It's so much more fun than I thought it would be," Abel said. "If you're passionate about anything, try to find opportunities, just try it out to see if you'd enjoy that type of work."