A student stares at a blank Google document trying to think of how to answer the question of how they have benefited their school in a way that will not bore an admissions officer, but will also highlight the student's intellectual qualities and their determination. The student begins to question their decision of applying to this school and worries about not knowing what they will major in or what field they want to explore after college.
Lucky for this student, it is Director of the College and Career Center, Allison Bly's goal to help students through the process of college preparation.
One way Bly works to broaden students' views on career options, is by organizing career speakers from the community to come and share their experiences.
Senior Ella Gilbert said that high school students often feel pressure to have their career decided or do not know about the wide ranges of different options.
"If you're interested in a particular field, it's nice to know what path could be helpful and it helps to get inspiration if you are not sure what you want to do," Gilbert said.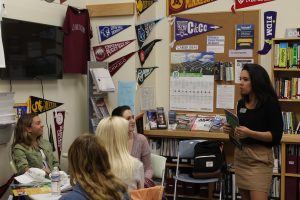 Bly said that the path is not always linear; individuals can take twists and turns in order to get to a certain place and the career talks help students see that.
On Oct. 13, Entertainment editor at POPSUGAR Maggie Pehanick presented about her job as a lifestyle media publisher.
POPSUGAR is a female-friendly website that receives over 2.5 billion views each month and reaches one in every three female millennial, Pehanick said.
"It was interesting to hear what a day at her job was and other specific details because often when I hear about what people do, it is just what the job is called, not what they actually do," Gilbert said.
Pehanick agreed and said that there are a lot of parts of a job that people do not think about until they hear directly from someone in that position.
Junior Audie Walter also attended the event and said it gave her more insight about possible areas to pursue after high school.
Also on Oct. 13, a new university called Minerva held a workshop where students were able to create an image of their ideal college.
"It was really great for the juniors to see what their priorities are when looking at schools and then trying to find schools based on what they want," Bly said.
Junior Max Woodruff-Madeira attended Minerva's workshop and said that it helped him determine the qualities he wants in a college.
"Workshops like these are important because they help students make educated decisions on what colleges they want to go to," Woodruff-Madeira said.
Similar discussions are created during college visits that have been happening throughout the fall, where an admissions officer comes to talk to PHS students about their certain school and its programs, social life and admissions.
Gilbert said that it is very helpful to hear more information about colleges that she may not be able to visit.
"It can be helpful to get tips from the people who look at your application so you know what they are looking for and you get more information about the school that may not be found online," Gilbert said.
In addition to organized events, Bly is also available for general help and individual, scheduled meetings with students,  regarding the college process.
Bly said her goals for this year were to help the juniors and seniors with the college admissions process and help them understand how to approach it.
"There is a lot of anxiety around [the college process] so [the College and Career Center] is a good resource for students to get their questions answered and to minimize their stress," Bly said.
Sophomore Avni Wadhwani said that not many freshmen and sophomores attend College and Career Center events because the events do not apply to them.
"I haven't had much personal experience with [the College and Career Center], but my brother has gone to a couple college visits and tells me about them," Wadhwani said.
As a senior, Gilbert said that she talks to Bly to get ideas for schools to apply to and to help her organize her list based on safety, target and reach schools.
"I was really lost on where to start and I didn't know what was going to be on the applications and [Bly] just went over the basics of the process," Gilbert said.
Walter, who has also met with Bly, said she appreciates the welcoming atmosphere of the College and Career Center.
"The meeting helped me establish what I am trying to achieve for the rest of high school," Walter said.
Gilbert said that talking to Bly relieves a lot of stress because she really tries to guide students to be as successful as they can.