The first week or so of August is usually a time when all the troubles of school seem to be at their most distant.
I haven't had to sit in the hard plastic seat of a desk in months and summer memories are still fresh in my mind. My birthday falls in these opening weeks of August, a time where I can usually look forward to enjoying the closing weeks of summer. However this year, it was a time that came with a bittersweet feeling. In what normally would have been weeks of summertime to enjoy, this time had been cut short, as school was set to start in less than a week.
With the school adopting a new schedule to accommodate having semester one finals before winter break, many changes have been made to the course of the year overall. In addition to an earlier start date, another major changes brought on by the new schedule is the reduction of Thanksgiving break.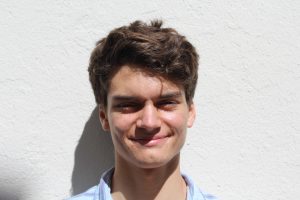 Thanksgiving break has been cut down from a full week to just three short days of Wednesday, Thursday, and Friday. This new development in the schedule is troubling because students no longer have a full week of time to enjoy themselves.
Usually students endure the tests, projects, and rigor on the first three months off school with no extended period of time for vacation or relaxation only then to be greeted by a full week of time to enjoy friends, family, and Thanksgiving. This has been my experience every year I've been in school until now.
With a full week of vacation now gone due to schedule changes, students will not get the needed time off to break up the rigorous span of first semester.
The troubles of families wanting to spend time with one another are also brought about by these schedule changes. While families once had a full nine days to vacation with each over thanksgiving break without students having to miss any instruction, the schedule change has made it so that time has nearly been cut in half, down to five days.
The schedule change to Thanksgiving break comes from a requirement to meet the certain amount of hours the school needs to have students in session for. The new plan for having finals before winter break is what has caused the altercation. While the results of the plan may be inconvenient when it comes to student plans for Thanksgiving break, it is important to remember that it was students who voted on the change to the finals schedule.
The new change to the finals schedule will in theory take pressure from school work off students during winter break. It is also important to recognize that the change to the finals schedule is part of a larger debate, and there are benefits that could come from it. But in the end, the effects on students and their time should be realized because when it comes down to it, Thanksgiving break is being shortened and that means less time with family and friends.
This year, the unfortunate truth is that students will no longer get the full break that they have benefited from. This means waiting longer than the already three month period of school students have had to endure in the past, without an extended period of vacation time. The sense of limited relief could have an overall negative impact on the student body. They will get less time with family and friends and that is why it is important.