"Mock Trial is a cult," senior Eva Mills said.
At the beginning every meeting, a student formally introduces themself by saying "Good afternoon your honor" in a loud, demanding voice. History teacher David Keller stops the student to scrutinize their words and voice, using phrases like "from the diaphragm," and, "are you sure?" The others watch intently as the student tries their introduction once more. Amidst the seriousness, a lively and engaging atmosphere fills the room, suggesting that all the members truly want to be there. Sometimes that feeling erupts in the form of an occasional, loud and earnest interjection.
Mock Trial is a group of 22 tight-knit students, led by Keller. This year, the team will work on a case involving human trafficking and false imprisonment throughout their whole season, from Sept. to Feb. All the facts about the fake cases are compiled into a 79 page packet.
The students practice three times a week until late Jan., when the competition starts. During the tournament, the prosecution team meets with the defense team from another school within Alameda county and they participate in a battle of words against each other. The same goes for the defense team. The whole team, the prosecution and defense, are scored and evaluated together, Keller said.
"The competition is to see who can represent their side of the case best," Keller said. "The judge makes the determination of who wins. It's less about what the facts are and more about just how well the side of the case is argued."
Freshman Julie Ray, an expert witness for the prosecution, said that you do not have to want to become a lawyer in the future to be a Mock Trial participant.
"I feel like it's been a confidence builder for me," Ray said.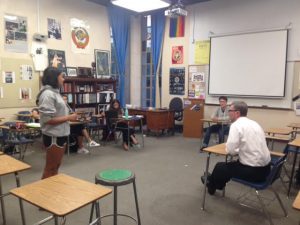 Mock Trial also provides a lot of good life lessons, said Mills, who is on the pre-trial, the team who talks to the judge before the trial about what part of the Constitution and which amendments will be used.
"I've gained a lot of experience on how to communicate with someone I disagree with very, very politely," said sophomore Anna Fehr, a witness police officer.
Freshman Pierce St. Claire said that it has also helped him with his public speaking skills.
"I was probably one of the shyest kids in my grade in middle school," senior Henry Hopcraft said. "But after trying out debate and Mock Trial, I guess it sort of helped me get out of my shell and talk to people and I think it's made a big difference for me in terms of speaking in front of the class, giving presentations, talking to judges–all this stuff I could never dream of doing back then, Mock Trial has allowed me to achieve."
St. Claire said he loves that he is able to meet upperclassmen and that he has the opportunity to make fun of them. He also said that he definitely will continue with Mock Trial throughout his high school career.
"Mock Trial is addictive," Keller said. "It may sound really weird to say that, but it is really addictive and the people that are in it, are really into it."
Junior Rohan Srivastava said he joined to learn more about the justice system and legal theory in general.
"I like the burden of having to defend someone even if you truly believe that they're guilty and deserve to be in jail," Srivastava said. "You still have that responsibility to have to defend them and that's the beauty of our court system."
Junior Maya Guzdar said that it might sound like a nerdy thing to do, and she even regretfully admitted that she had walked out of the meeting her freshman year, but once you join, she said it becomes extremely interesting and fun.
"When [my sister] first told me to audition I was like, 'Nice joke, thats sounds like the nerdiest thing you could ever spend your life doing,'" said Mills, who has been on the team for four years now.
Hopcraft said he joined his sophomore year after history teacher Courtney Goen, who once was the advisor for Mock Trial, recommended it to him. He said he immediately loved the whole thing: the sense of community, the performing, and the intensity.
"I really liked competing in things but I wasn't super athletic," said freshman Soren Call, the defendant. "So when I heard about Mock Trial it sounded perfect for me because I liked public speaking and debate."
Call has a large role for an underclassman, like a lot of other freshman this year. This is because there are only 10 upperclassmen in Mock Trial this year, Srivastava said.
Keller said that usually there are not a lot of freshmen that try out since they do not know about it. However, this year, the word got out about auditions and the freshmen were able to fill in the missing spots.
"A lot of the freshmen are less experienced and they are being thrust into these big roles," Srivastava said. "I've been impressed with what they've been doing."
The Debate Team is also an option for students who want to pursue their public speaking. However, Mock Trial has a more formal format and each student is provided specific facts, whereas in Debate, you are allowed more freedom in terms of what you say, Fehr said.
"For Mock Trial, it's about making emotional heavy hitting arguments, presenting them slowly and persuasively. Debate, you go up there with a ton of New York Times statistics and you just rattle off at like warp speed to the judge all of these really fast paced factual, statistical arguments," Hopcraft said.