For years, students have battled for spots in line at Food Service, with many becoming frustrated by the lack of respect and patience among their peers. To find a solution to this difficult situation, assistant principal Eric Mapes and executive chef instructor M'Lisa Kelley came up with the idea to separate the four lines by grades to reduce cutting, and speed up the efficiency during brunch and lunch.
Kelley said she had noticed many students crowding the lines and pushing to the front, so she wanted to create a better system to keep the lines from being a free-for-all.
"It felt like it wasn't fair, and Mr. Mapes finally had enough of it," Kelley said.
Administration had been talking about the prospect of grade lines for a long time, but Kelley said it was Mapes who finally pulled the trigger on the idea. Kelley said she has seen a huge difference in efficiency.
For the first few days with the new system, staff noticed seniors trying to go into other lines, but that changed as soon as they realized they would be sent to the back of the line, Kelley said. She said that administration will continue to assess the new system throughout the school year.
"It's a lot more orderly and I don't have to yell at people, which makes me feel better," Kelley said.
Mapes said he was also worried about the pushing and shoving, scared someone would get hurt. He had been considering the switch for a couple of years now, and decided to execute it upon hearing positive input from staff, students, and Food Service teacher assistants.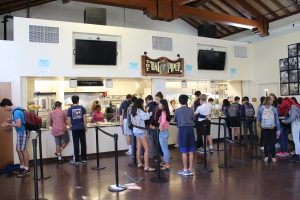 Junior Chance Davis said she thought the switch was made because the freshmen were sick of being cut in line, so they complained. In fact, most responses tended to gravitate around the way freshmen were being treated.
"Before the line change, seniors could just cut freshmen," freshman Paul Davies said.
Davies, who regularly buys food service, said he doesn't like the change because the freshmen line is now very long.
Sophomore Patrick Conn said he thought the old line system worked better for him, and feels like the freshmen have to wait in longer lines now.
"It makes everything slower and there's always no one in the senior line," Conn said. "I don't like the change and I don't think anyone else does either," Conn said.
Senior Taylor Scofield said she thought the change was made because upperclassmen were cutting underclassmen, so when the lines are separated, people will not be as willing to cut people from their own grade.
"The senior line is always shorter, I don't know if it's quicker for freshmen though, because there's a lot of them," senior Elise Hebert said. "All the seniors I've heard love it."
Mapes said he is also open to the possibility of a mixed-grade fifth line, but would also love to hear student feedback, and encourages students to reach out to him about any topic regarding the school as a whole.
"I'm open to critical feedback. You all are 90 percent of the population of the school, but there are 10 percent making decisions for you," Mapes said.
Overall, Kelley said the entirety of the food service staff has noticed a huge difference in efficiency and plans to carry out the grade separated lines for the school year.
"We are always open to comments, questions and suggestions," Kelley said. "We do have food regulations that we have to follow because we are a public school, but still we are always going to find a way to make [our students] happy."