Strolling to the center of the stage, Cole Becker, class of '14, grabs the microphone and flips his hair to raucous applause at the Oakland Metro. His brother Max, class of '12,  strums his electric guitar in harmony, alongside his good friends Joey Armstrong and Seb Mueller, class of '13, on drum and bass, respectively. The four of them comprise the band SWMRS, a world renowned punk rock band. On stage that night, they create a tune that manages to lift every individual in the audience to their feet.
Originating at PHS, SWMRS has served as an inspiration for current high school students, as PHS now boasts a number of student bands, ranging from acoustic to rock.
Senior Chelsea Gilliland is a member of two bands: a rock and folk band. Her rock band consists of students outside the district, while her folk band is composed of PHS students.
"It's less scary when you're with a group performing," Gilliland said.
Gilliland's folk band includes sophomore Gracie Ellis and juniors, Emmett Reed, and Andrew Pinkham.
"We have a bunch of musicians and it's less of a solidified band. It's more of like a big collaborative jam session," Pinkham said.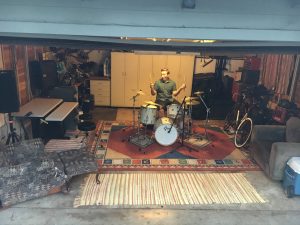 Pinkham and Reed followed their musical passion and turned their garage into a recording studio, where they make music videos.
"You get to expand on different kinds of art forms, and it's really satisfying to see a final tangible product," Reed said.
Pinkham and Reed are opening their studio to the public, and can be contacted via their school emails:
"We're opening our studio for our sake of experience and for whatever they want to get out of it," Pinkham said.
In addition to experience, Gilliland said she has learned many other lessons from being in a band.
"[Being in a band] has taught me a lot about stage presence, confidence, and harmonizing," Gilliland said.
Senior Jakob Armstrong is in the rock band Danger, which includes sophomore Enzo Malaspina and Chris Malaspina, class of '16.
He also said that brings his performing experience to other subjects in school.
"[Stage presence] carries over to the other side of the stage,"  said Armstrong, referencing his involvement in acting.
Armstrong said that his stage presence improved once he became attuned to the preferences of the fans.
"It's more about being high-energy,"Armstrong said. ¨That's what people like to see."
Armstrong said that his band used to be shy and nervous, fearful of making mistakes. However, they later learned that fans will enjoy the show as long as it is loud and energetic.
"We like to play really loud. Often times our ears will be ringing after the show," Armstrong said.
Armstrong said that his favorite part about being in a band is the shows, as he loves live music and seeing people dance.
"[Being in a band] has changed the music I like because I've started to appreciate songs that sound good live," Armstrong said.
Even though Armstrong said his musical taste has changed, his passion for music has not.
"I listen to [music] while doing art, and I listen to [music] while walking to class. [Music is] just a part of everything for me," Armstrong said.