As the effulgent, glowing lights of the Alan Harvey Theater waned and the buzzing chatter of students and parents subsided, eager eyes locked onto the vast screen. For 70 minutes, an informative film about the stuggles of teeangers and technology indulged the watchful eyes. Hollers of roaring laughter echoed throughout the theater, as the audience watched content that felt especially relatable.
On Nov. 15, parents and students flocked to the Alan Harvey Theater at 7:30 p.m. for a viewing of the award-winning 2016 documentary, "Screenagers." The film explained the struggles that kids and their parents face with social media, academics, video games and internet addiction.
"Issues with [technology] are really relevant in our lives, and I notice it with myself and people around me," senior Mathis Richards said.  
Physician, filmmaker, and mother Delaney Ruston said that she created "Screenagers" because she noticed that many parents were having difficulty regulating the screen time of their children. She noticed more kids getting smart phones at younger ages, more technology being used in classrooms and, in general, a higher usage of technology in everyday lives.
The film emphasized that all parents and children struggle with rules regarding technology, which caused a sigh of relief from the audience members.  
"It's nice to know that it's not just our family struggling with it," said Kurt Vogler, the parent of middle schooler and high schooler.
The explanation from the film about the brain releasing dopamine when it receives new information from a phone, helped parents comprehend why their children are so captivated by technology.
"The natural desire to look for new information stuck with me because it's like 'Yeah. I do that,'" Richards said.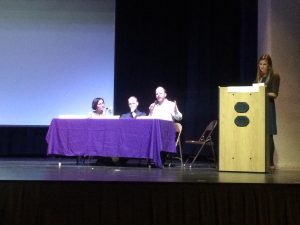 Volger said that the research about the harmful effects of multitasking and extreme usage of technology on the brain really struck him.
"One big concern that I have is about, in 20 years, what sorts of developmental shortcomings are going to be the product of so much screen use," Vogler said.
The film provided approaches that parents can use to reduce the hours of their children's screen time. Examples included creating contracts for smartphones, setting time limits for technology use and removing phones from bedrooms at night.
Parent of middle schooler and high schooler, Susie Vogler, said that families could be much happier if they understood the value of personal interactions. These relationships could cause children and teenagers to be not as addicted to screens and spend more time with their families and on other, more advantageous activities.
"All parents are so busy and [technology] is a perfect babysitter," Susie Vogler said.
Clinical supervisor of the Wellness Center and school psychologist, Dr. Alisa Crovetti, led a 45 minute panel discussion after the film, along with clinical psychologist, Dr. Brian Sedgeley; Beach parent and Kaiser pediatrician, Dr. Jennifer Tenney; as well as technology coordinator at PMS, Adam Saville. Volunteers distributed slips of paper to the audience to write their questions or concerns on.
The pediatric recommendation of two hours of technology per day for teenagers is unrealistic and setting suggested amounts of time for other activities is more powerful and productive, Tenney said.
Piedmont parents and educators developed the screening in part of the Education Speaker Series, a group of events that present topics about raising healthful, active children, Crovetti said.  
Kurt Volger said that the "Screenagers" event answered many of his questions and raised issues that will cause parents and their children to become more conscious of their technology usage.
"I think it's great that [Piedmont] goes through this," Kurt Vogler said. "I was really glad that I was able to come to this showing."