Blue and yellow has become almost as ubiquitous as purple and white throughout Piedmont these last couple months. Coffee cups, clothing, posters and signs blare their opinions on Measure H1 on every corner and every Facebook feed. Measure H1, a local bond measure, will be voted on in the upcoming Piedmont election on Nov. 8.
Measure H1 would raise property taxes in Piedmont to fund a 66 million dollar plan for improving educational facilities throughout the district.
"There are educational desires that we have that our facilities are certainly not supporting," said superintendent Randall Booker, who facilitated the development of Measure H1.
Not to be mistaken for Measure H: the renovation of the Alan Harvey theater, Measure H1 focuses on renovating all of PHS, as well as smaller facility changes in the PMS, MHS and elementary schools.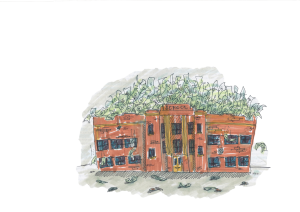 At PHS, this would include enlarging, replacing or compensating for undersized classrooms; replacing Alan Harvey Theater; changing the entrance of the school so administration can see who enters and exits; building a "secure campus perimeter to secure access" or a fence; and enhancing outdoor areas and more, according to the Facilities Master Plan.
"I think there is very little oversight in terms of what is going to be replaced, and very little oversight in terms of what needs to be replaced," senior Grady Wetherbee said. "There was nothing in [the City Council Resolution for Measure H1] that limited the spending of money to replace things that don't need to be replaced, and nothing in there that even addressed whether something needed to be replaced or not. I think that's an inefficient way to do things."
Measure H1 is a bond, not a parcel tax. A bond is a debt being repaid by property owners based on their property, while in parcel tax is a tax directly raising revenue,, according to Ballotpedia. The 66 million dollars in funds would be raised from property taxes levied on Piedmont households.
If Measure H1 is passed, in 2017-18, households will pay 205 dollars per every 100,000 dollars of their home value, a 60 dollar increase from prior years. For the median home value in Piedmont of 912,000 dollars, that would mean 1,870 dollars in taxes to support the H1 bond.
However, in following years, that number would go down as older bonds would retire so that by 2020-21, the taxes would be lower than the current amount. The tax rate would never increase more than 60 dollars per 100,000 dollars of home value, according to the "Tax Summary" fact sheet on Measure H1.
"I'm not sure why they need that much [money]," senior Alex Chang said. "I feel like the taxes they need to put on the Piedmont community to pay for all that might be a little much."
The renovations proposed under Measure H1 would involve demolishing the theater and replacing it with an administration and classrooms building, and demolishing the 10s building and replacing it with the theater. In addition, there would be many changes and reconfigurations within the other buildings, according to the Facilities Master Plan.
Currently, 190,000 dollars are allocated to maintenance every year for the entire school district, said co-chair of campaign for Measure H1 Claire Arno.
"One hundred and ninety thousand dollars isn't even enough to re-roof Wildwood Elementary School or re-roof Havens," Arno said.
Chang compared the current classrooms to those in "Saved by the Bell," a TV show in the 1980s, to describe how outdated they are.
It has been 40 years since the high school and middle school were built. The schools did not have as many devices as they do know and academics were taught very differently, Arno said.
"We're not talking about beautifying anything," Arno said.
The funds would also be used to improve the district's schools with new classroom buildings, enlarging classes, new lighting and more, according to the Facilities Master Plan.
"I think having more modernized facilities would allow students to engage in a more beneficial learning environment, especially in terms of updating technology and stuff," Chang said.
Measure H1 would create new classrooms and labs to support and make room for S.T.E.A.M. (Science, Technology, Engineering, Arts, Math) classes, Booker said.
"We don't have enough computer labs to support any more expansion," Booker said. "We're pretty much tapped out with regard to our current facilities."
As a district employee, Booker is not allowed to campaign for either side of the proposition.
"I've read the facilities assessment reports," Booker said. "I read the educational specifications around how our facilities are not supporting our educational process, so I'm definitely in support from that point of view."