Pizza. Glowing smartphone screens. A hot Thursday night in a crowded classroom. Wispy blonde hair and a red pantsuit. The first presidential debate.
Many students will engage directly for the first time with their national government in the upcoming presidential election on Nov. 8. Many others are keeping up with the race despite being too young to vote.
One teacher who has incorporated the election into his lesson plans, civics teacher David Keller, offered extra credit to students who attended an on-campus screening of the first presidential debate between Democratic nominee Hillary Clinton and Republican nominee Donald Trump on Sept. 26. Keller also provided voter registration forms for all his civics students, regardless of whether they will be 18 years old by Nov. 8.
"I believe in democracy," Keller said. "It's the form of government that provides the greatest amount of freedom for its people."
But for democratic governments like our own to work, Keller said its citizens need to be involved.
"[I want] to try to help people get the tools they need," Keller said, stressing how he has been incorporating the national election into his lesson plans.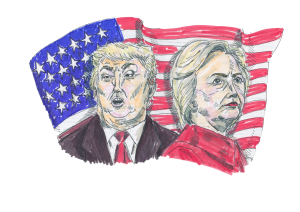 Keller is also in charge of the mock election, which was on Oct. 31. In 2012, PHS and MHS students participated in the annual mock election with results mirroring the national vote. According to an article from The Piedmont Highlander, 285 total student votes were cast and Democratic nominee Barack Obama beat out Republican nominee Mitt Romney by a margin of 60.3 percent.
Senior Nick Price, who will be old enough to vote in the actual election on Nov. 8, predicted that the mock election would probably mirror California's left-leaning stance, but acknowledged that Piedmont does have a sizeable demographic of conservative students.
"Obviously the environment you grow up in is going to have some sort of impact on what your political views are," Price said. "I think there's definitely a climate at our school of leaning on our parents, which isn't necessarily a bad thing."
The mock election is one way for students under the age of 18 to get involved and informed, since it is open to all grade levels.
"Even if you're not old enough to vote, you should know about the two potential people that could be running your county for the next four to eight years," said sophomore Miles Fawcett, who has been keeping up with the presidential election even though he will not be eligible to vote.
Fawcett likes to be informed in part because he finds the race entertaining, he said.
"The debates are always really intense," Fawcett said. "[Trump] always says something foolish."
Keller said that he has noticed similar enthusiasm and interest in the presidential election from his students.
"[The election] is so high profile with super high stakes," Keller said.
However, while seniors in Keller's civics classes have done activities focused on the election, Fawcett said teachers haven't addressed it in his sophomore year curriculum.
"We haven't really done anything in class, teachers just usually nonchalantly ask us if we watched the debates," Fawcett said. "Usually we say no because we're doing homework."
Keller said he thinks other teachers should do the same by incorporating the election into their lessons, even if their subjects might not be as closely associated with politics as civics.
"If people are interested, why not?" He said, posing a question to his fellow teachers.
In a survey conducted by ACL writers, 81.5 percent of the 135 surveyed students agreed with Keller, saying that teachers should be teaching about the election in the classroom.
This instruction can help students reach a more informed decision about who to vote for, as Price, who is taking economics this semester, said he experienced. "I didn't really have a strong understanding of economics before this year," Price said. "But now, watching the debates and hearing Clinton and Trump talk about economics, I know more about what they're talking about."
However, any in-class activity regarding the election must be presented void of political opinion, according to the PUSD Board of Education
"The Board of Education respects the right of school employees to engage in political discussions and activities on their own time and at their own expense," according to Piedmont Unified School District Board Policy. "On such occasions, employees shall make it clear that they are acting as individuals and not as representatives of the district."
Still, Price said he thought the school could do more to help students be prepared for elections by offering classes like economics as electives before senior year.
"I have a few friends who are 18 and the majority of them have at least said they want to [vote]," Price said. "But it's just definitely really new territory."
86.7 percent of the 135 survey respondents said that they either are voting in the upcoming election or would vote if they could.
"It's pretty cool to have the power but at the same time the responsibility and privilege to vote," Price said.