It's nearing that time of year again. You're in class and hear the voices of fellow students dancing through the hallways; the noise gets louder until it is right outside of the door.
The Troubadours, an a capella group at PHS, have completed their auditions and are gearing up for the upcoming holiday season. As a tradition, the Troubs go from classroom to classroom on certain holidays to sing joyful and feel-good songs to classes.
This year the Troubadours are led by seniors Sabrina Kim, Danny DeBare and Keith Sibal.
Kim said that the main goal for the year is to make all of the new member feel well-integrated into the group.
"One of the best parts of being in Troubadours is feeling included in a close-knit group," Kim said.
When asked about auditions her sophomore year, Kim said that she was nervous, but everyone was supportive and not judgmental at all.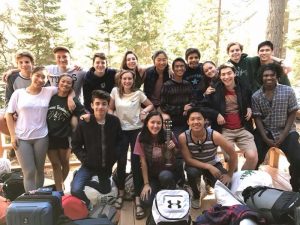 "It takes a lot of guts to sing in front of others," Kim said.
Sophomore Ella Lee, a new member, said that she is excited to become more comfortable with singing, especially in harmonies.
"When you're in a quartet, there's more confidence since you're in a group, rather than just a solo," Lee said.
Unlike other years, this year, no freshman made the list and very few auditioned, Lee said. However, she said that she hopes that more kids will want to join next year.
The Troubadours perform at other venues too, often singing at the Scott's Seafood store front in Jack London Square, where they can earn tips from people and simply spread the holiday joy, Kim said.