THREE PILLARS
Special education also goes beyond the classroom, extending into the spheres of socialization and physical education.
Adaptive P.E. teacher Raul Jorcino believes that everybody has three pillars of their well-being—cognitive, emotional and motor. Just like a stool, when one of these pillars is lacking, the other two will not adequately work, he said.
"Those three things, they need to go together," Jorcino said. "A student that does well in the cognitive aspect and the affectionate aspect, but no motor abilities are recognized or being pushed forward, the other two cannot grow as well. When those three things are going together, that boosts the personality and well-being of the person."
Jorcino's job is to facilitate the growth of the motor aspect in special education children. He teaches them how to ride bikes, to be water-safe and introduces them to different sports.
"I like kids that feel bad, 'Oh I'm not good at P.E. I'm the last one to be picked,'" Jorcino said. "I say, 'No you can do better. Don't be so shy, you can do better.' And then at the end they're good."
Jorcino has been working in Piedmont for 16 years and has seen the adaptive P.E. program develop from three or four students to now about 24. Compared to other districts like Oakland, where there are three adaptive P.E. teachers to about 38,000 students, Jorcino said he is one teacher for approximately only 2,700 Piedmont students.
Piedmont's small ratio of specialists to students, along with adequate resources, helps the town's program succeed, Jorcino said. Many of his students have gone on to participate in high school level athletics.
"Many kids, autistic kids or mentally impaired kids or any kid here, they eventually are on the high school football team, swimming team, cross country team," Jorcino said. "Imagine, these kids that were once so behind, feel so good to be on a team. I like that. I like the transformation we can see from this to that."
Right now, Jorcino said he is excited about the prospect of one of his students trying out for the high school swim team.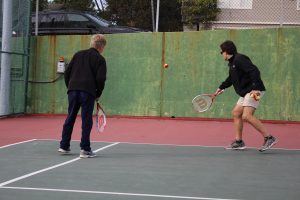 "Any athlete or any student in the high school that tries his or her best at their athletic program should understand that the special ed kids, even though their results are not so famous, are trying their best and they should acknowledge that as well," Jorcino said.
High school athletic teams are a great way for special education students to socialize with peers outside of the classroom and outside the special education program, said a parent of a special education student. This socialization aspect relates to Jorcino's emotional pillar.
"We counted a lot on these amazing basketball coaches making [our child] feel good," the parent said. "If a kid feels good about themselves, the academics will come later. They need to feel good that they have a friend or that they belong to some peer group."
Although Piedmont provided tremendous support in the classroom, the special education program lacked support when it came to socialization, the parent said. This aspect is extremely important because many special education students already feel really bad about themselves, the parent said.
"[High school students] could understand a little bit better that it's a little bit harder for these kids to feel accepted by people and learn how to engage and start the conversation," the parent said. "Every person is going to be very different on how open they are about their disability but once that dialogue is open, there is just a lot to gain on both sides."
These student to student connections are very important, as the parent still remembers a time in elementary school when their child wanted to stick with a questionable teacher because they had a friend in the class.
"I called the neuropsychologist and she was like, 'Look, academics can be filled in with tutors and other ways, but for a kid to feel good about somebody and somebody they like and that person likes them, you can't buy that. That is how they are going to excel in life. They need to feel good about themselves,'" the parent said. "And I've always remembered that."
Fortunately, clubs like Best Buddies are trying to help build these connections at the high school. Every other Thursday, a group of general education and special education high school students have lunch in the home base classroom, room 44.
"The point of it is to raise awareness about mental and developmental disabilities, especially those that are present in the school," said co-founder and co-president senior Claire Laymon. "There is a whole classroom of kids who have them and who go through the same or very similar course material as us and take classes too that don't get the same community or inclusion as most other students do at Piedmont and Millennium."
Besides having free pizza at lunches, Best Buddies also does activities such as a white elephant gift exchange. Laymon said anybody is welcome to come to these lunches.
"Intentional welcoming is a really powerful thing and I really encourage it," Laymon said. "That's why I believe in Best Buddies and do the club. I just think being intentional and getting to know people is really significant."
The parent agreed, and said that even an intentional act like a wonderful hello to a special education student in the hallway would go a huge way because it makes them feel less different.
"A person who goes through life understanding how someone with cerebral palsy feels or someone who has a learning disability feels, is going to do better in life because they'll just be able to connect with people better," the parent said.
EDUCATION FOR ALL
The special education program does not just involve a section of the Piedmont population, it affects everyone in the community. So far, director of special education Julie Valdez said that she is proud of the community partnership between general education and special education in order to make sure all students access their right to an equal education
"All of my students are my students," Hill said. "I don't think of my students as 'There are my general ed. students' and 'There are my special ed. students.' All of my students have different learning needs and at the end of the day, what our school, my classes and my teaching should be about, is helping all students learn to the best of their ability."
General education can also learn from the special education program, Hill said. She said that she wishes every student could have an Individualized Education Plan (IEP) because every student works at his or her own pace.
"Something that special education students get that I wish all my students got was people helping them who know what their learning strengths and challenges are and are helping them strategize for what works best for them," Hill said. "To me, it seems like all students should have that."
At the end of the day, Valdez said that special education is a way to level the playing field for all students, not an advantage given to a select few.
"The course work and the information being presented to you in your classrooms is really rigorous and really challenging, so even for the most capable and advanced students this is a challenging environment in which to operate," Valdez said. "This is an effort to support those students who require additional support in order to access their education."
And so far, Piedmont's program has been doing just that. Not only do Valdez, Hill, Jorcino and the parent agree that Piedmont has a respected and well-resourced program, so does a home base student.
"It's a very good class. It's pretty good at accommodations and learning styles," the home base student said. "There are very few complaints about it. It seems not like a sooty rich school at all. It really doesn't seem like that, despite the image of Piedmont being that way."
Regardless of a student's label, education is education. And as the home base student described the perfect education environment, the emphasis was on student engagement and learning.
"Just some very low level back end class that has us sitting on bean bags while the teacher has nice discussions with us, takes us on interesting mind journeys, watches engaging videos, talks about sensitive content, talks about all sorts of things that will really get us riled up, really get us calmed down, really bring us together as a community," the home base student said.
And while Piedmont may not have bean bag chairs yet, Valdez said that she is impressed with how far the community has come. She also said she encourages other students to voice their opinions and questions about special education.
"I'm really, really proud of our overall community in terms of how we support our students who do have disabilities and need a little bit of support, and I appreciate all the efforts of the general education and special education teachers in partnering to really make our school system accessible," Valdez said.