"A lot of fantasy and fun." These were the words that senior Princeton Liu used to describe the Winter Dance Concert his dance class presented on Dec 8, 2016 in the Alan Harvey Theater.
This is fitting, considering the title of the show: "FUN-tasy".
Once you've viewed the array of dance numbers presented by the young artists in their Winter Concert, Liu's words take on new meaning.
With dystopia, fisticuffs, puppeteers, robots, and even an ode to Harambe, the dances drew 'oohs' and 'aahs', even whistles, throughout the show.
The dances are diverse in style as well as theme, performer junior Lian Call said.
"You're gonna see some hip hop, you're gonna see some lyrical, and then you're gonna see some mixtures of those," Call said. "You're gonna see some stuff that I can't even name because it's so different from what we've seen before."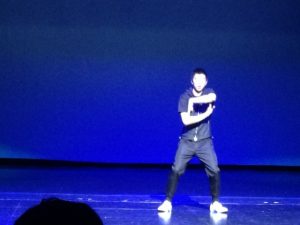 Although the dances have different styles, the constant among them is the advanced technique the dancers have learned in the class, Liu said.
Many new dancers have joined the class this year and are mixed with the veterans of the class, dance instructor Amy Moorhead said.
"I believe that dance is for everybody," Moorhead said. "Everyone who walks through my dance studio door, I consider them a dancer, regardless of if they've had 10 years of experience or they've never danced a step."
Moorhead said the class has bonded throughout the year and has grown as a team in the months leading up to the showcase.
"We work really hard to have an inclusive, supportive environment where everyone feels safe to just do their best work," Moorhead said.
Call said that the new dancers this year have brought new energy to the class.
"You're gonna see a lot of enthusiasm, because there's a lot of energy in the class this year that you haven't really seen before, we have a bunch of people in the class who really like dancing," Call said.
There seemed to be an overwhelmingly positive response among the audience members.
"It was fun to see our friends dance," freshman Becky Isaac said.
Parent Tom Rood said that it was clear the class had put a lot of time into the show.
"I was really impressed by all the work that everyone put into the choreography," Rood said.
Parent Melanie Willson said that the dances were nicely varied
"You could tell each dance had a theme,"  Willson said. "Each group was different."
Call said that she hoped the audience saw how much the performers love to dance.
"I hope you [saw] that in the show, you [saw] the love of art in it."
For more on the dance showcase checkout the photo gallery:  http://tphnews.com/2016/12/photo-gallery-dance-showcase