SAT or ACT? UC or state school? Early Action or Early Decision or Regular Admission? These are only a fraction of the questions students ask themselves when applying to colleges. On the evening of Dec. 6, some juniors and sophomores, and their parents attended an admissions workshop and a college fair to try to find answers to these questions and more.
Starting at 6 p.m., students and parents split up from each other and were separated into rooms with about 15 people in each group. The groups also consisted of three or four admissions officers or representatives from 46 different colleges. For an hour and a half, students and parents deliberated separately on three fake applications.
The admissions officers went over the different parts of the applications, and had participants read all of the parts, including the personal statement, essay and grades. Each section was criticised or praised to help participants realize that each section matters.
"It made me a little less nervous about college applications because they were pretty unknown to me," junior Abigail Willson said. "I mean, I didn't even know how long they were supposed to be. Now I know all the components that go into it."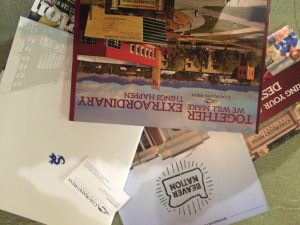 The admissions officers also talked about how all colleges review applications differently. One way to review is to do it holistically, which means to take into account all of the application, not just GPA and test scores.
Knowing all of this information and knowing what to focus on will help when applying, junior Anna Campbell said.
"It was discouraging to hear that the actual people that you are applying to don't spend that much time on your applications," junior Hunter de Vroede said.
At 7:30 p.m., students and parents reunited and had the opportunity to attend the college fair, held in the library and student center. This consisted of all 46 colleges at tables with pamphlets and a representative for each.
Students and parents were allotted around 45 minutes to browse the colleges and talk to the representatives of ones they were interested in. Students could take a pamphlet as well as fill out a form to receive more information from each college.
"[The college fair] kinda overwhelmed me a little bit because I was like 'wow, there's so many here and this is only a small fraction of all the colleges out there,'" Willson said.