The feel of wet clay and the ceramics wheel gives him what seems like limitless power to create.  Ceramics is more than just a hobby for senior Alex Paton.
Paton, who said that he has been making ceramics for four years, is now in AP ceramics.  His AP concentration is edges.
"I chose edges as my concentration because edges are present in all things, and I wanted the freedom to create whatever I am inspired to," said Paton.
He said his inspiration comes from his life experiences. He draws on things that he sees everyday and crafts them into his pieces. He has tried other art forms, like painting, but said he always made the best work with ceramics.
Ceramics teacher Susan Simonds, who has taught Alex all four years of high school, said that she has seen a big progression in the quality of his work over the years and he is a phenomenal talent.
"He is very creative, he pushes the boundaries with his work," Simonds said. "Whether it be the form, the size, or the glazing that he does. He is the whole package."
Paton said working on the wheel is his favorite part of ceramics.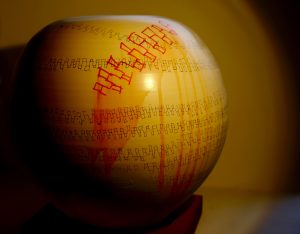 "It's gucci," Paton said.
Wheel throwing is working with the clay on a ceramics wheel as opposed to working with just your hands Paton said.
"Working on the wheel is kind of my signature style. It helps me bring freshness to my pieces, which is what I try to have in each piece I make," Paton said.
Fellow ceramics student, senior Nick Perkocha said he notices how each one of Paton's pieces is unique.
"Alex is really committed to his artwork, he is one of the best in our class," Perkocha said.
Simonds said she feels Paton has enormous potential as a ceramicist.
"Initially one just learns to master the technique, and now he is so far beyond that. He is pushing the envelope in all directions, which is also the underlying theme of his concentration, going to the edge," Simonds said.
When asked if Paton had a signature style, Simonds said that he is always evolving, and so is his style, so he has nit reached the limit of his creativity yet.
"He is changing the possibilities of the traditional forms of ceramics," Simonds said.
Paton said he has a studio at home, and could see himself continuing to do ceramics after high school.
"I see him making it a part of his life forever. He is one of the kids I see will always be involved in ceramics," Simonds said..