The auditorium is quiet save for a few hushed whispers from the wings and the sound of shoes on the stage as dancers prepare for their last run through of the night.  It is 8:30 p.m. on a Thursday night and every seat is empty, except for one.  Dance instructor and program director Amy Moorhead sits in the first row finalizing the program for the following night's show, as her students ran through their dances.
"I am always surprised by the creativity of these students, in a good way," Moorhead said. "While originally some students thought the theme of this years show, fantasy, was a little limiting, I think that they have really explored all aspects of it."
The class itself is very much student run, Moorhead said.  They choose the theme of the show, do their own choreography, as well as their own costumes and props. Even though this year's class of 34 exceeds all previous years in terms of size, the class still manages to move smoothly.
"I'm really here to help people build sophistication in their choreography if they've done it before, or just helping them create a movement phrase if they are new to the class and the concepts," Moorhead said.
While not all of the dances choreographed in class will be showcased in the performance, each student will be in at least one piece.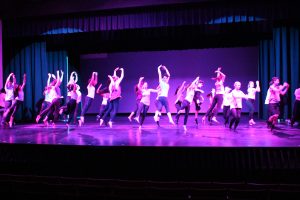 "The past two years we have had a core group of leaders and then a few new people coming in so the leaders really set the tone and the new people kind of adapt to that," Moorhead said. "This year we have a small group who are returning and they are really strong leaders, but it is still an adjustment."
One of the new students to the class is sophomore Mia Guilford, who helped choreograph three  dances in this year's winter dance concert.
"I have never done a class like this before and it's kind of nerve-racking showing not only the class, but the whole school, but it's still really fun," Guilford said. "I'm used to performing, but not my own work.  I'm used to someone teaching it to me, but now that it's my dance there is more pressure to get it right."
Senior Princeton Liu has been dancing for three years with the Breakers club, but this is the first real dance class he has taken, Liu said.
"I've always wanted to join the dance class," Liu said.