Piedmont High's twenties night was back in full swing Sunday Dec. 11 in the middle school's multi-purpose room.  
This is the fifth year of the event, whose purpose is to help students visualize and cement what they have been learning about the 1920's in class, history teacher Alli Cota said.
"It's purpose is to offer a kinesthetic learning experience for students, and to be cross curricular between history and english," Cota said.
Students get an opportunity to dress up and have fun in an assignment that is more fun than stressful in a time of year that is typically very stressful Cota said.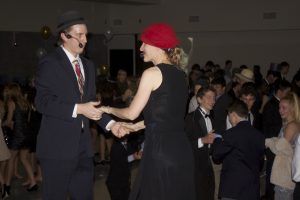 "It's pretty fun so far, but it's a lot of work trying to learn all the dances," junior Nicholas Chan said.
Dressed in a tuxedo and sporting a trumpet Chan went all out in dressing as Louis Armstrong, the famous jazz musician.
"Louis Armstrong was a musician, so I wore a tux, the normal attire for a musician," said Chan who plays trumpet, trombone, baritone and tuba in real life.
"I liked dressing up, but this has not really helped me learn what we've been covering in class at all. It feels a bit like 7 grade social dance," said junior Claire Hanke.
Hanke was dressed as Mary Pickford, an actress famous in the twenties.
"Last year we were at veterans hall, but it was a little too small so now we're back here [the multi-purpose room]. Students don't prefer the atmosphere, but it offers more space and better acoustics," Cota said.
Costume Contest Winners 
Abigail Wilson
Katie Fraser
Kay Sibal
Margaret Lucas
Drew Sacay
William Reicher
Poetry Contest Winners
Dylan Skov
Micah Bloom
Gabby Brown
Zoe Levin
Twenties night photo gallery:  http://tphnews.com/2016/12/photo-gallery-twenties-night ‎