The ruckus, roar, purple and white of the rally scene will no longer interrupt a Friday morning schedule, but rather a Thursday night.
For the first time ever, PHS will hold a student rally at night on Feb. 16. The rally will be held in the amphitheater from 7-8 p.m.
"It's never been done before, so of course I had some questions about how it was going to be organized, the date, where we were going to have it," co-interim principal Irma Muñoz said.
Muñoz said that the amphitheater was selected as a location because the administration felt that the space is underutilized.
"The amphitheater is a great location and we don't use it for many activities. It was built as a stage, intended for performances, and we don't really use it like that," M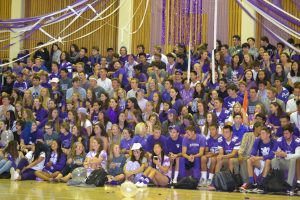 uñoz said.
Aside from the logistics of when and where the rally was going to be held, there were also questions about the activities and the security, Muñoz said.
"With any event my first thought is about safety," Muñoz said. "Things like, what types of games and who is going to supervise, which means that there are a lot of layers to planning an event like this."
  Muñoz said that though it is a lot of work to piece together the night rally, she enjoys the eagerness from the student body.
"Students in ASB have been talking about a night rally for years," ASB advisor Mercedes Foster said. "Members of ASB know students who go to other schools and hear about night rallies, and they want to bring that here."   
On top of being the first school rally to be held at night, it is also the first school rally where student attendance is voluntary.
"We're trying to unite everyone not around blind school spirit, but a real feeling of togetherness and a supportive environment," Foster said.
ASB has been trying to reach out to students that have not been in any of the rallies before and is trying to include as much of the student body as possible, junior and ASB member Anna Goldberg said.
"There will be similar games compared to a normal rally, but we also have some secret activities planned," Goldberg said.
Many people don't realize how busy PHS is at night, Goldberg said. There are only a few facilities that could be used to host a rally and most are used during the night.
"We had to figure out dates that did not conflict with the facilities being rented out or being used for other PHS activities, such as rehearsals or games," Goldberg said.
ASB also compromised with the school administration on the date and timing of the rally, along with the chaperoning of the event, Goldberg said.
"We are really excited to bring something fun and new to the student body," Goldberg said.
Goldberg also said that getting the night rally approved was a huge deal for ASB and she hopes that the student body will appreciate all the work that went into making the event happen.
"It's going to be fun and we can't wait," Goldberg said.