Noise and cheers erupt in the stands. Students jump up and down, screaming in excitement as the buzzer sounds and Piedmont scores. All clad in purple shirts, the students fuel the basketball team with energy as the game continues. They scream, shout, yell and cheer in the newest student fan section, the Purple Pit.
"The Purple Pit is like our sixth man section," said men's varsity assistant head basketball coach Ben Spencer. "We just thought this would be a cool way to get people to come to the games."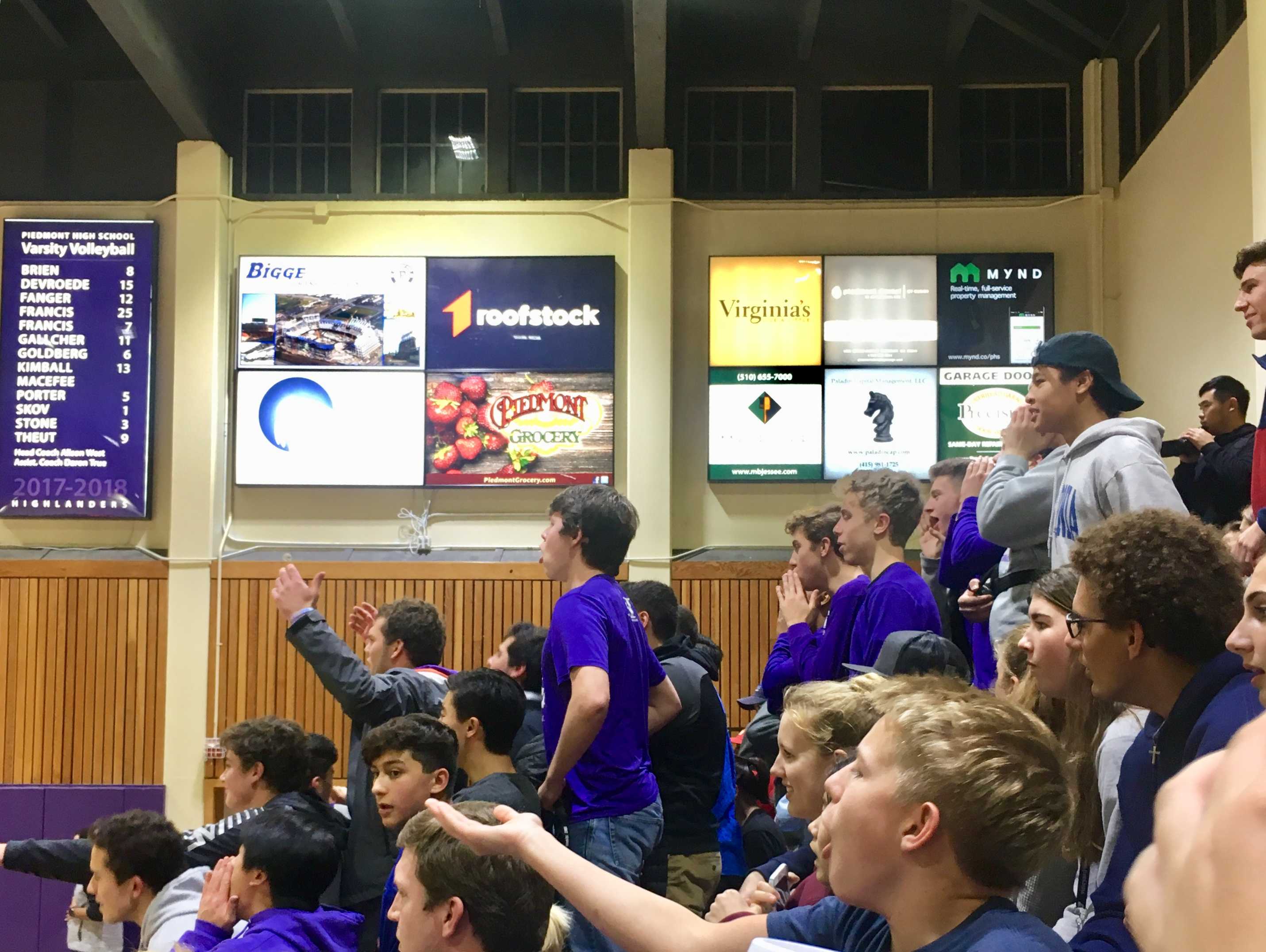 The creation of the Purple Pit was a group effort consisting of Spencer, men's basketball coach Mike Hudson, women's basketball head coach Bryan Gardere, and Director of Athletics Joe Welsh.
"About two years ago, Gardere and I were at a double-header and talking to each other, and we noticed that we don't have any fans at our games," Spencer said. "We finally came up with this idea a couple years ago, it's just taken us a few years to implement it."
Welsh said that Gardere and Spencer approached him with the idea prior to the season starting because they really wanted more students to come cheer on both the men's and women's Junior Varsity and Varsity basketball teams.
"When I played high school basketball, our gym was packed," Spencer said. "In the student section, you couldn't even sit down it was so packed."
Welsh said that the men's basketball overtime win against Kennedy High School was well-attended and that students were really vocal and enthusiastic. He said that the players definitely appreciate the support.
"I've been to other schools that have a sixth man club that really creates support and excitement for teams," Assistant Principal Irma Muñoz said.
Spencer said that the home crowd can make a difference in how the team plays and have a big impact on the score and outcome of the game.
"It all just builds off of each other," Spencer said. "Our players feed off that sort of energy, and it's exciting for the fans to see how well they're playing. And then the players are playing better and with more energy and excitement because the fans are into it now."
Even with the excitement surrounding the Purple Pit, Welsh said that they are still looking for more ways to publicize the new section.
"The idea behind the Purple Pit is to create a student community," Welsh said. "We have a t-shirt that you purchase for 25 dollars, you get free entry for the season for all the games, and you get free food and drinks at the games."
Welsh said that shirts are available on the Piedmont Store, through the athletics office, and also available for purchase at the basketball games.
"We're just starting to get students to wear the shirt," Welsh said. "We don't have the bleachers full yet, probably around two-thirds full. We'd like to get everyone to be wearing it."
Welsh said that it's a fun environment whether or not you like basketball.
"Personally, I think that this is really going to work," Muñoz said. "Perhaps it will be a new Piedmont tradition."