Klein Leads and Inspires ELD Class
An educator and a student sit at a faux-wooden desk, analyzing Robert Hayden's "Middle Passage," 434 lines of prose written about the Atlantic Slave Trade. This poem features such complexity that it has been taught at the graduate level for decades, including to the educator himself. And yet this high school student, whose mother tongue is not English, is able to digest the piece and peel back a new layer of meaning.
This educator, Matthew Klein, has served as the head of the English Language Development (ELD) Department for the past four years. Klein said that experiences, like the one involving the "Middle Passage," are what fuel his teaching career.
"It's one of those little magic moments that teachers like to hang on to," Klein said.
The PUSD registration process includes a question that asks students what the primary language spoken in their household is. If the response is any language other than English, the district has a legal obligation to test the student and determine if they need English support services. These "Multi-Language Learners" are then placed into Klein's fifth-period ELD class, which is comprised of students from sixth through twelfth grades.
"[The district] doesn't take into account that the kids are at different developmental levels. I have a kid [in my class] who's in sixth grade, and one who's a senior. That's 11 to 18 years old," Klein said.
Klein is forced to create at least three or four lesson plans each class to accommodate the students' wide range of age, skill, and fluency. 
Although ELD is incredibly time-consuming for Klein, it is also incredibly important. Senior Michaela Bini, who took a semester abroad in Italy during her junior year, said that a class like Klein's would have made her transition to Italian school much smoother.
"When I was in Italy, I felt really behind. It was hard for me to catch up with the rest of my class. If I had had that extra support, I would have done so much better," Bini said.
In order to provide this smooth transition for his students, ELD uses a 60-40 model to structure his ELD class. 
"60 percent of the time we work on developing their English language skills through speaking, reading, writing, and listening. The other 40 percent is designed to help them with whatever support they might need in their other classes," Klein said.
Junior and German foreign exchange student Lilly Burchardt said that the ELD class has not only helped her succeed in her classes, but also form a stronger community at PHS.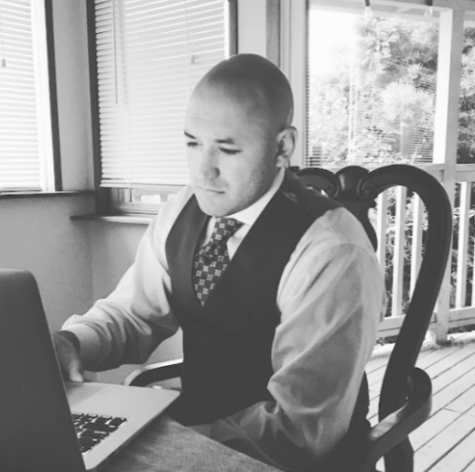 "It can be hard to collaborate with [other Multi-Language Learners] because they may not speak English as well, but they are all very friendly," Burchardt said. 
Junior Tania Kononova and her mother moved to Piedmont over the summer after leaving Ukraine to escape the war with Russia. She said that moving to California has provided her with a sense of stability. Like Burchardt, Kononova said that Klein's ELD class has improved her time at PHS,
"I have always wanted to come [to the United States] for college, because I play tennis and can speak English, so when my uncle invited us to move to Piedmont, we did," Kononova said.
Kononova said that although she has a developed understanding of English, she struggles with the vocabulary used in her classes. 
"The class gives me the opportunity to have the ability to ask for help, rather than having to find it myself," Kononova said.
Klein's ultimate goal in teaching students like Burchardt and Kononova is not to produce fluent English speakers, but to ensure that his students are seen as equal participants in the classroom. Junior Anne Reardon said that it is important for students to know about the course to foster a better informed community.
"People like to judge immigrants' intelligence levels because they can't speak English as well. You have to be more aware that that's not a good basis of their intelligence because it isn't their first language, and appreciate how hard it is to be taking all of these English classes," Reardon said.
Despite the class's vital role in the school community, it lacks funding and support from the district. In the time since he was assigned the class, opportunities to meet with administrators to discuss the course have been continually delayed, Klein said.
"The responsibility that I feel I owe to the kids is heavy. I told the department chair that I was going to step down this year, but no one was going to take it," Klein said.
Klein said that he considered leaving his position not because of his students, but because he felt frustrated at the lack of support.
"I felt that I didn't have anyone to commiserate with or talk to. It's very lonely and isolating. Last year crushed me," Klein said.
However as the 2022-23 school year has begun, support for ELD has slowly increased, Klein said.
"[There is now] a reading specialist who comes in. She works for the district though, so the support I have is amazing but limited," Klein said.
Klein said that throughout all of the struggle, the most rewarding aspect of teaching ELD is seeing his students grow.
"Seeing [my students] make giant leaps, it's mind blowing. It's them getting used to a high-pressure, high-stress environment, and being able to thrive," Klein said.