Ellis dives into role as starting varsity goalkeeper
A six-foot-tall Division 1-bound soccer player charges down the field and takes a shot aiming for the top right corner of the goal, but it's stopped as the goalie jumps up and springs herself onto the ball. No, the goalie is not an 18-year-old soccer player, it's 14-year-old freshman women's varsity goalie Gracie Ellis.
In just her first year at PHS, Ellis plays as the goalie of the women's varsity soccer team, who has already beaten their main competitors such as Berkeley High School and O'Dowd.
Before Ellis came to high school, two different athletic paths, just like the shots firing at goal, came presented in front of her.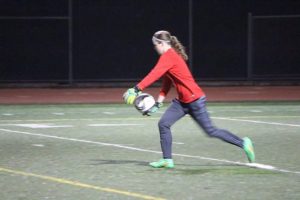 "I had to choose between soccer and basketball before I got into high school because they are the same season," Ellis said. "But soccer has always been a no-brainer. Soccer is by far my favorite."
However, this affinity for soccer was not always present in Ellis' life.
"[On the Highlanders club team] I used to play in goal half of the time and I hated it," Ellis said. "Eric Sullivan would stick me in goal and I would start playing full time and I started to appreciate it more."
In addition to the job of goalie, Ellis said that the team dynamic and bond that a team must have to be successful in soccer is really important.
The beginning game of the season against Carondelet High School gave Ellis a challenging start to the start to the season, when Piedmont lost 9-0.
"I was so nervous, I couldn't talk much during the day," Ellis said. "After the game my confidence lowered a little bit, but everyone on the team was really supportive and told me not to worry about it."
The support that Ellis receives as a freshman has been a key aspect of her soccer career at PHS.
"She has a great connection with the team, and she's a freshman on varsity so I think it's important to be outgoing and she cares so much about not letting her team down," brother senior Tyler Ellis said. "It's adorable watching her every time she saves a goal and they win, they're all supportive."
Gracie believes her connection to the rest of the team has played a large role in her ability to keep up at the varsity level.
"Getting to know each other off the field translates to better stuff on the field," team captain senior Grace Sanford said.
In addition to team support, Ellis' athletic and personal traits have allowed her to overcome challenge.
"She has a very unique ability to overcome adversity," Sanford said. "She'll be getting hammered by shots but she keeps a level head. She'll make a really tough save and she'll go out and do it again."
Ellis not only conquers adversity, but she also is able to cope with the probability and difficulty that the goalie position must face.
"My mind usually goes blank and I always go with my gut and what I know I can do," Ellis said. "I'm not afraid to use my hands and dive down for a ball because contact for me isn't that terrifying."