Freshman aid winning record on varsity soccer
Women's soccer has kicked off the season on the right foot. With five freshmen on varsity from the start of the season, the team is 10-1 in league competition, including a nail-biter 1-0 victory against Bishop O'Dowd on Jan. 8 and a come-from-behind victory against Berkeley on Dec. 10.
After losing key goal scorers from last year, the team was concerned about scoring goals this year, said varsity soccer captain senior Grace Sanford. That worry turned out to be unfounded: the team has scored goals in all but two of the games this season.
"We are not relying on one person as much as we have in the past," Sanford said. "This year, we have a solid starting lineup and a solid bench. We have a really hardworking team."
The positive team chemistry has been important in the team's achievements, said women's varsity head coach Dan Chubbock.
"So far I believe they've exceeded expectations," Chubbock said. "We've had games where we've had five freshmen on the field at one time. I can't remember the last time we've had that."
The freshmen have substantial soccer experience, each having played soccer for at least eight years. All five said that making varsity has been a long-time goal.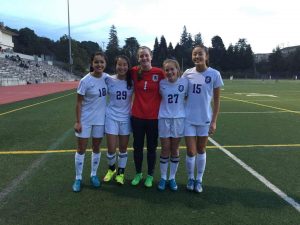 "I've always wanted it but I've never stated it directly because I didn't know how much of a chance there was that I would get on," freshman Laila Adarkar said. "I've always wanted it in the back of my mind."
Since watching her older sister junior Leah Kochendoerfer play varsity as a freshman two years ago, freshman Clara Kochendoerfer has dreamed of playing varsity soccer.
"It's fun because I get to meet new people from different grades," Kochendoerfer said. "It's also fun that I play with my sister."
Kochendoerfer said that the hardest part of the transition to varsity is being one of the shorter players.
"I have to learn not be be pushed off the ball and be strong," Kochendoerfer said.
Freshman Emily Yu has had to adjust to the faster pace of the game.
"It's a lot easier to lose the ball," Yu said. "I feel like I don't want to mess up because it can cost a turnover, which could lead to a goal."
The freshmen have risen to the challenges of higher-level competition: Adarkar, Kochendoerfer, freshman Erin Hong and freshman Hayley Sullivan, who was moved up to varsity on Jan. 26, have scored a combined 17 goals and freshman Gracie Ellis is the starting goalie.
"I've already seen improvement in how I play," Ellis said. "I've been building up confidence in myself."
Sanford said that her personal experience as a freshman on varsity three years ago has influenced how she interacts with the freshmen.
"I remember it like it was yesterday," Sanford said. "I try to treat the freshmen with the same respect that I wanted, and for the most part received, when I was a freshman. At the end of the day we're equals on the field and it's important to take care of them."
Adarkar said that the highlight of her season so far has been scoring her first two goals in the game against Hayward on Dec. 15.
"It was really fun," Adarkar said. "You have a really good feeling after you score and everyone congratulates you and you feel like you've contributed something."
Similarly, Hong said that the best part of being on the team is scoring goals and winning together.
"I hope that we continue to have good team dynamics and continue to be undefeated in the league," Hong said.
Yu said that her goal for the season is to become closer with everyone on the team and improve her skills.
"I hope to push myself really hard to be a better player," Yu said.
Chubbock said that all of the credit for the this season's success goes to the players.
"You always want to try to create a hardworking environment where the players feel relaxed and comfortable playing," Chubbock said. "It's not easy to get that, but I feel like this year, we've got that."