Men's soccer improves as season progresses
While many students' winters are filled with sipping hot chocolate and cozy snuggies, the men's varsity soccer team's winter is filled with dirty cleats, nighttime practices and intense games.
Already more than half way through their season, the team's current record is six wins, five losses and five draws and they have already qualified for North Coast Section playoffs.
"We are looking pretty good right now but our record doesn't really show it," captain senior Jackson Parker said.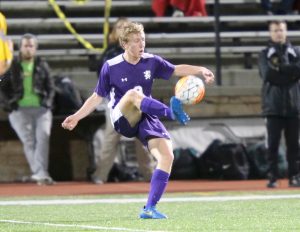 The team lost three of their first four games, but have not lost a game since mid-December, coach Rory O'Connor said.
"The boys have worked really hard to overcome the injuries to Gabe Watson and Julien Orban and after a tough start we have adjusted and are doing really well," O'Connor said.
Right back junior Ryan Kong said that the team had a problem of not being able to finish games.
"We have a habit of taking the lead and then blowing the lead and then tying in the end," Kong said.
Despite this, center forward junior Eduardo Calvo said that the team is very capable and talented.
"I think we are playing better soccer than last year," Calvo said. "We are playing more possession rather than kickball."
The varsity team is composed of players from the club soccer teams Bay Oaks and Piedmont Highlanders. For example in the off season, Calvo plays for the Bay Oaks while Kong plays for the Highlanders.
The combination of the two club styles has resulted in a more well rounded team that plays not only defensively but possessively with a strong offensive game, Calvo said.
"We are trying to bring the two playing styles or playing methods [of the club teams] together," Parker said. "It is pretty challenging but it has been working out so far."
Team chemistry is also evident off the field, Kong said.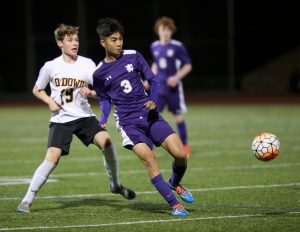 "Our team is pretty close together," Kong said. "There is no one who thinks they are better than any other person."
O'Connor also said that everyone on the team has been helping each other out, creating a successful team dynamic.
"This group we've brought through, they've been coming through some three, some four years and there's very good comrade this year which is essential," O'Connor said.
As the second half of the season starts, the team has set their sights on winning the league championships and getting good results in NCS.
"We are only three points off the top of the league and we have never come close to winning the WACC league so it would be nice to have that as a goal," O'Connor said.
In order to achieve their goals, Parker said that the team needs to work on their focus.
"We are really good at trying to compete with ourselves and getting over that competitive edge," Parker said. "If we focus on that more it will increase our intensity and competition between other players and we will win more games near the end of the season."