Men's soccer kicks off their season with new coaches
The orange cones, placed every 15 yards methodically, shine dully under the fluorescent lights of Witter field. Soccer players clad in bright blue and green cluster in the far corner of the field, the occasional neon sock silhouetted against the plastic grass. They line up in neat fives, then settle into attentive silence as a tall figure, the coach, steps forward. The coach deftly demonstrates the drill, jumping through hoops on the ground, then the players scatter to imitate him. Blue and green figures fan out across the arena designated for tryouts. The coach steps forward again, and with the friendly command, "Off you go!" The drill resets, and players scramble forward once again.
These tryouts mark the debut of men's varsity soccer coach Todd Sullivan, the conductor of this athletic symphony. Sullivan is joined by new men's JV soccer coach Nikolai Littleton, who will assist with varsity in addition to coaching JV.
Sullivan said he hopes to bring a fresh perspective to the program, and wants to focus on the four pillars of sports: tactical, technical, physiological, and psychological. Sullivan also wants to introduce elements of sports science to the season, which includes sports psychology, sports medicine, and sports nutrition.
"I feel the main aim of the program is…to see development from the boys," Sullivan said. "It's not just development in soccer, it's development in their education overall, because the sport is an extension of the classroom, really."
Sullivan plans to implement athlete-centered practices, each one focusing on a specific skill. He said he wants to encourage responsibility on the part of the players.
"The seniors in particular are now transitioning from high school to college and I think that's a massive change in independence, so I think responsibility needs to be on them a lot," Sullivan said.
Sullivan worked with 24/7 UK Soccer Academy in the Bay Area before coming to Piedmont, and said that his teaching philosophy has benefited the players there. He said he hopes the playing style and incorporation of sports science will have the same benefits in Piedmont.
Junior Will Richmond said Sullivan will fit in well at Piedmont.
"He seems to have a lot of experience, and he seems to be super organized," Richmond said.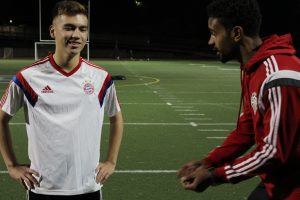 Richmond is also familiar with the new men's JV soccer coach, Nikolai Littleton. Trained by Littleton in the past, Richmond said the team will respond very well to Littleton's style of coaching.
"He's really good at bringing up the intensity of practices," Richmond said. "He also does a good job of making sure that the kids stay focused."
Littleton, a former MHS student, played soccer for PHS in high school, and as a result, is excited to return as a coach, Richmond said.
Littleton said that younger coaches, like him and Sullivan, connect better with high school players.
"Being a student athlete as he was in high school and college, I think that he will be able to sort of understand what the kids are going through," Richmond said. "That will help him to connect with the players and help to build team chemistry."
Sullivan said that Littleton brings a unique perspective to Piedmont soccer.
"I think he will be very valuable to the school because he kind of bridges the gap [between coaches and players]," Sullivan said. "He's an ex-student, so he has lots of knowledge about how things were run before and how he thinks they should be run now."
Senior Ryan Kong said he believes that the team's playing style will change with the new coaches, and hopes the change will lead to more success on the field.
"I think last year our playing style was more of a 'dump ball'…'kick the ball up and hope that it gets to someone at the end of the field,'" Kong said. " In general, that's kind of how high school plays, it's hard to play real beautiful soccer because it gets real nasty on the field sometimes, real physical and real fast. [Sullivan] plays more of a structured style… more of a passing style I'd say."
Senior Kyle Mortimer said he believes Sullivan will improve the team's strategy.
"I know [Sullivan] likes more direct soccer, he's more into scoring goals and  more pragmatic soccer," Mortimer said. "I like that because that's how you win games."
Sullivan met with returning players before tryouts, and said he enjoyed meeting the players and learning about their goals for the year.
"I was quite impressed with the turnout; there were at least 10-15 boys there, so that shows they've got a tight knit group already before we've even formed the team," Sullivan said. "I'm really excited for what they can bring to the soccer team, I think as a group of guys they are pretty motivated and they're a strong unit."