As one of the most successful basketball coaches of the 20th century said, "The eight laws of learning are explanation, demonstration, imitation, repetition, repetition, repetition, repetition." The PHS basketball program has been taking some pages out of legendary former UCLA coach John Wooden's book, focusing on repetition, specifically on repeating their league championship. However there is a catch, as this year the basketball team is in a tougher division, facing schools that are much bigger than PHS.
"We won league so we got moved up to the upper division so now teams that we played once last year, like O'Dowd and Berkeley, we play twice this year," junior Ben Barrett said.
After winning the West Alameda County Conference (WACC) Shoreline division last year, Piedmont was moved up to the WACC Foothill division this year, where every other school is Division I, except for O'Dowd which is division II, head coach Chris Lavdiotis said.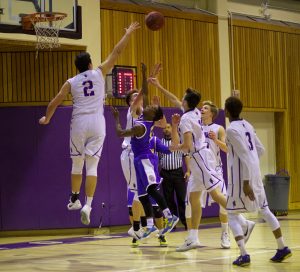 "We are the small school, and it is great; we love it," Lavdiotis said.
Differences between the two leagues are mainly the sizes of the school, and this affects the basketball teams in that there are more kids and thus more good players, Lavdiotis said.
Along with the size and level of competition increase that the basketball team faces, there is also a higher level of intensity and attendance at away games, captain, senior Jack Woolcott said.
"At away games they always have crowds, they always have guys screaming at us and parents," Woolcott said. "It is just a high intensity atmosphere and I think personally I thrive in that atmosphere and a lot of other guys do as well."
The culture of the basketball team itself is different, Barrett said.
"It's different because we had a lot of seniors leave last year who played a lot of minutes on our team so we have a lot of new people playing a lot of minutes," Barrett said.
What is not different about the two teams are their goals for the season, as this year the team is also fixated on winning league, Lavdiotis said. The team is also focused on succeeding in NCS and beyond, Woolcott said.
"We think that with this high level of competition, probably one of the best leagues in the East Bay, we think that we can make a pretty solid run at NCS, maybe state," Woolcott said.