Wall of Honor committee plans ceremony in May
PUSD has announced a groundbreaking ceremony on May 18 for the Wall of Honor at the Chris Stevens Memorial library, which will house a database recognizing past and current service members from Piedmont.
The hour-long ceremony will include a pledge of allegiance led by the Piedmont Police Explorers Color Guard, an introduction from superintendent Randall Booker, and three community speakers. No physical change to the library will occur on this date as fundraising for development has only recently begun, with an aim of $50,000.
Booker approved the wall earlier this year with then-principal Brent Daniels' recommendation, said Board of Education vice president Sarah Pearson.
The idea was also presented to the PHS SITE council, the board of the Piedmont Education Foundation, the PHS Parent Club, and the organizers met with the superintendent, Pearson said.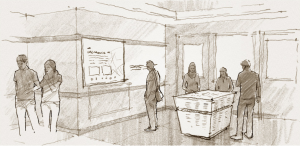 In 2015, Katie Korotzer and Terisa Whitted, Piedmont residents and parents of PHS alums who entered the armed forces, began their initiative to honor service members. With the help of the Piedmont Historic Society and other community members, Korotzer and Whitted collected a list of over 1,200 PHS alumni and residents who have served in the US military or the foreign service. The committee plans to incorporate this database of names into the Wall of Honor.
"The repository will be organized by decade with stories, remarks, and images as available," according to the Wall of Honor website.
Korotzer said the committee's plan is to hire a professional web design company to create a fully interactive website with touchscreen technology that will be displayed on a 24 to 36 inch tabletop or wall-mounted screen.
SITE council student representative Danny DeBare said that the first time Korotzer and Whitted presented their proposal, in November of 2015, the council provided input regarding whose names should be recognized.
"It kind of varied around what the definition of 'honor' was," DeBare said.
DeBare said that he thinks the Wall of Honor is a good idea and has nothing against it as long as it recognizes service to the country rather than glorifies the military.
"We never really came to a consensus or conclusion but I think we really liked using the wall for the purpose of honoring people who are serving their country," DeBare said.
Korotzer and Whitted returned once in the 2015-16 school year to make a follow-up presentation to the SITE council.
"We were impressed that their second presentation was quite different than their first one," said SITE council representative and English teacher Debbi Hill. "From our point of view, it sounded like they heard our concerns and they had brought the project into something that would be about not just people who go into the military."
DeBare said that no SITE council meetings at the beginning of the 2016-17 school year touched upon the proposal any further.
"I kind of thought it was over," DeBare said. "The fact that it's coming back is surprising to me."
Hill said she wishes there had been more discussion about the proposal this year.
"It's felt like many steps were taken without the community knowing that things were moving forward," Hill said.
The School Advisory Committee (SAC) also received a presentation from Korotzer and Whitted. Hill said some main concerns against installment –for staff members included the location of a high school library for such an exhibit and the argument that PHS typically celebrates what students achieve before graduation rather than after.
"Even the athletic Hall of Fame here is about accomplishments of students while they were here at PHS," Hill said.
Booker believes a service member database has educational value and that the library is an appropriate location because it is where students would go to research information on service members. The present list of names on the Wall of Honor website includes Piedmont residents in addition to Piedmont graduates. However, Booker said this expansion would not fit his educational vision.
The Piedmont Education Foundation, a 501(c)(3) nonprofit, currently fiscally sponsors the Wall of Honor, so all donations made towards the $50,000 goal are tax deductible. As the Wall of Honor proposal called for funding through community donations and not the school's general fund, it never appeared before the school board for a vote or discussion, Pearson said.