PODCAST: QuaranTeen'd — NPR Podcast Challenge Honorable Mention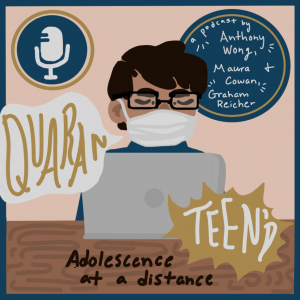 Competing with roughly 10,000 students and 2,300 other submissions across 46 states and Washington, D.C., "QuaranTeen'd: Adolescence at a Distance" received an honorable mention from a judging panel of over ten experts, according to NPR.
Three TPH editors created, wrote, and produced "QuaranTeen'd" from home: co-editor-in-chief Anthony Wong, former arts editor Maura Cowan, and multimedia editor Graham Reicher.
Featuring original music, interviews, and perspectives across Piedmont and beyond, this podcast offers a student-centered perspective on the impacts that the COVID-19 pandemic had on students academically and socially in the past semester.
Created originally in early May for the NPR contest, this is now the first podcast to be released through TPH. Please click here or the image above to listen.
——
[polldaddy poll=10578313]
——
Written and produced by Anthony Wong, Maura Cowan, and Graham Reicher. Edited and recorded by Anthony Wong. Cover art by Maura Cowan. Original music by Connor Stratman, Jack Nooney, and Anthony Wong. Special thanks to Ms. Beth Black, our journalism teacher and advisor, and Ms. Erin Igoe, our assistant principal.
Additional participants (interviewees): Athene La Jeunesse, Jody Weverka, Preston Nibley, Eleanor Hoffpauir, Pierce St. Claire, Kami Zimmer, Maya Huffaker, and Jack Nooney.