The Future Of Standardized Testing
It's 6 a.m. on a Saturday morning. Alarm clocks ring as students prepare to take their SAT/ACT.
In the most recent episode of my podcast, Teens in the Bay, I examined the future of the SAT and ACT in light of many colleges gravitating away from standardized testing, and asked for student reactions to this trend.
The SAT was created between 1923-1926 by Carl Brigham as a way to standardize college admissions and increase accessibility to higher education. Just years later, the ACT was introduced, which aimed to cover even more content learned in school.  
In the years since, these tests have heavily impacted the college admissions process and become one of the most important elements of students' applications. However, in the past three years there has been a drastic decline in student registration for these exams.
To explore this trend, I spoke with Mark J. Drozdowski, a senior writer for Best Colleges, a publication that focuses on issues in higher education. Drozdowski is also a writing instructor at  John Hopkins University and serves as an admissions ambassador for the University of Pennsylvania. 
"Over the years I've been seeing a growing dissatisfaction with standardized tests and a growing realization that they have serious limitations when it comes to the lack of fairness and equity built into the system," Drozdowski said.
Although standardized tests provide a quantifiable metric to differentiate applicants, students who can afford more resources are given a head start, said Drozdowski.
"[The SAT/ACT] advantage people who take tests in a certain way, and reward students from families who can afford things like test prep and the ability to take the test multiple times," said Drozdowski.
Currently there are around 750 colleges who are either test optional (applicants can choose to submit scores, or opt out) or test blind (test scores are not considered in applicant evaluations). Drozdowski said that the primary reason for this was the COVID-19 pandemic. 
"COVID accelerated a lot of stuff that was already brewing. There was a movement away from the SAT/ACT, but practical ramifications of the COVID-19 pandemic forced colleges to go in that direction," Drozdowski said.
According to Drozdowski, the test optional system has resulted in application pools growing dramatically, especially at elite schools, which have become even more selective.
Sophie Linett, a Bay Area SAT/ACT tutor, said that the elimination of the tests as mandatory requirements for applicants has made her job much more enjoyable.
"Many more of the students that I work with now are choosing to take the tests because they think it's a source of strength for them versus taking them because they were required to by their parents," she said. 
Arun Brahma, a junior at PHS, shares this sentiment. 
"I'm taking the SAT because I think that I can do well and it will help me to get ahead in the application process," he said. 
Other students however, such as junior Ella Puckett, have some reservations. 
"The tests take a lot of time to study for and might distract me from my school work which might not be worth it given that so many schools are test optional now," she said. 
The future of these tests is hard to predict, but in a recent survey of admissions officers, the majority said that they want their college to remain test optional or test blind permanently. Other colleges, however, like MIT, are returning back to requiring standardized test scores. 
"What happens in the future is really going to depend on what the big colleges do because they set the tone and lead trends," said Drowdoski.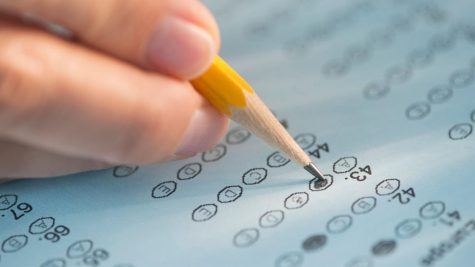 As an admissions ambassador, Drowdoski added that he and his colleagues are going to start taking a "more holistic approach" to admissions, meaning that they are going to be taking into account grades, essays, extracurriculars and letters of recommendation as opposed to standardized tests alone.Drozdowski also said that the number of students admitted to colleges through early decision is going to increase drastically, because it helps the admission process and shows which students really want to be there. 
"What I look for as an admissions ambassador is not just some differentiating quality or across the board achievement, but rather a student that can specify why they are a good fit for a particular school," he said. 
Drozdowski added that admissions have always been more of an art than a science, meaning that they're always going to be subjective regardless of what objective metrics colleges are using.