Piedmont's Interim Superintendent Begins New Year
It was a sunny day in Puerto Vallarta, Mexico. A retiree was out celebrating his 60th birthday when suddenly, the phone rang. Instead of birthday wishes, the voice on the line had a mission for him. Three years into retirement, Dr. Donald Evans was offered the opportunity to take over as interim superintendent of PUSD for the 2022-23 school year. Evans accepted the offer and has held the position since July 1, 2022 while the district continues its search for a permanent superintendent. 
"I thought about the opportunity to come to Piedmont and make a difference. Having that opportunity to go back to connect with the kids again was an opportunity I couldn't pass up," said Evans.
Before retirement, Evans was a superintendent and teacher in school districts all across the state, and from each new district he gained unique experiences that allowed him to develop his teaching style.
Evans began his journey on the East Coast. Growing up in a very small, wealthy, and predominantly white town in Delaware where his family was one of the few African-Americans, he faced dozens of racist incidents. While attending the University of Delaware, Evans again experienced racism from fellow students, professors, and community members. He persevered, earning his BA, but the experiences left a lasting impression on him.
"Those experiences, you can't ever forget them. They stay with you for the rest of your life," said Evans.
Evans said that one of the most effective tools in helping him cope with these experiences was participation in affinity groups.
"I know what it was like because I went through it," said Evans, reflecting on his deeper personal understanding of affinity group members due to his own personal experience.
He believes the strength of affinity groups is that they allow students to talk about the issues they face with others of similar backgrounds and experiences. Evans said having the support of a tight-knit community is important, particularly in a small town like Piedmont.
"One thing I learned from my little community [growing up] is how everyone takes care of everyone," said Evans.
After graduating from the University of Delaware, Evans moved to San Diego and attended United States International University, where he received his Masters of Education. Staying in San Diego, Evans began his career as a teacher. He later moved to Palo Alto to teach, and then Oakland for a position as principal. In his return to the Bay Area, Evans attended UC Berkeley and received a PhD in education.
Evans then began work as an assistant superintendent Compton. After his time in Compton, he returned to the Bay Area to serve as superintendent for Hayward Unified School District. Evans then led Berkeley Unified School District (BUSD) for six years before retiring.
In his time at BUSD, Evans won awards for his leadership capabilities, including the 2018 Marcus Foster Educator of the Year Award, a Certificate of Special Congressional Recognition, and a City of Berkeley Proclamation.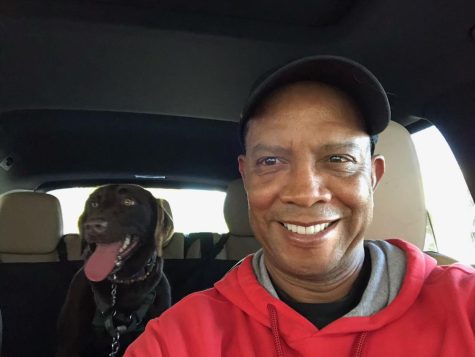 As the assistant superintendent of Compton schools, Evans said he dealt with gangs, violence, and poverty. Despite these adversities, he saw the resilience in his students, and once again witnessed the power of affinity groups. He saw how affinity groups gave teachers and students the chance to develop students' flexibility, a strength that Evans really admires.
"[Affinity groups] allow others to recognize that strength and build on it," said Evans. 
One major component of his vision is to build on this strength in his time in Piedmont and use it to encourage Piedmont's diversity and equity. 
"[Evans] is already having an impact. His vision is guiding the district's work on diversity and equity," PHS principal Sukanya Goswami said.
Evans said he also plans to strengthen the mental health work done by previous superintendent Randall Booker, such as Booker's work with the PHS Wellness Center.
"Booker was very concerned about wellness of the students, not just the academic part, but the whole child, and that was very inspiring for me," said Evans.
With many potential areas for growth in Piedmont, Evans said that in order to best relay the desires of the student body, students must be able to communicate clearly to administration, including him. Evans said that the strength and voice of BUSD students for change stood out to him.
"One of the things that I loved about Berkeley was that students had a voice, and they knew how to exercise that voice. They were always walking out, protesting, demonstrating, or doing something," said Evans. 
By listening to the voices of the students, he was able to enact change in the district to best represent the students. Evans said he hopes that he can continue doing so in his time in Piedmont, and that students will feel comfortable enough to share their voices with him.
"If you want me to hear you, you have to speak to me where I'm going to listen so I can help you," said Evans.
Evans said he believes one of his strengths is the ability to listen and communicate with students. This is echoed by many of Evan's colleagues. This strength is especially valuable to help him form a better connection with the students.
"[Evans] is a good listener and he always makes himself available," said Goswami.
In addition to forging a strong relationship with students, Evans also had to work on moving policies of change through the district political system. In contrast to BUSD, Evans said he believes that in a smaller district such as Piedmont it will be easier to move ideas through the system. 
While Evans said he has hopes for the district and ideas for improvement, he understands that his time in office is limited, and that his main goal is to prepare the district for the next superintendent. This includes a lot of operational work to ensure the district is operating harmoniously and allow for a smoother transition of leadership.
"[I have to] make sure the district is running efficiently and effectively…these things are not glamorous, but they are a big part of my job," said Evans.
Alongside Evans, the School Board is also working on the search for a new superintendent. This fall, there will be stakeholder meetings to gather input from students, staff, families, and the larger community. The superintendent position will be posted during this Winter, and interviews will be conducted throughout winter and spring. Once interviews have been completed, the new superintendent will be named in spring 2023, and will officially take office on July 1, 2023.
While Evans will only be interim superintendent for one year, he said he still believes that he will make a meaningful impact while simultaneously providing a smooth transition to a permanent superintendent.